Periculum Capital Company, LLC ("Periculum") is pleased to announce that it acted as the exclusive financial advisor to Phoenix Fabricators and Erectors, Inc. ("Phoenix" or the "Company") in its partnership with Union Capital Associates, LP ("Union Capital"). Union Capital invested in Phoenix for its future growth prospects, particularly in the composite elevated water tank market.
Phoenix is an industry-leading provider of elevated water storage tanks, commonly referred to as water towers. Founded in 1986, the Company maintains its corporate headquarters in Avon, IN and has an additional manufacturing facility in Sebree, KY. Phoenix has constructed over 5,000 tanks throughout the United States. By employing its own field crews, the Company offers a turnkey solution, including engineering, fabrication, foundation installation, field erection, and painting services, to ensure high quality and timely construction.
In order to continue to expand and maximize its already strong market position, Phoenix was looking for a partner to give them access to additional capital for expansion. Periculum was engaged to conduct a focused search of potential equity investors to partner with the existing management team. Following an extensive process, management determined the best partner for Phoenix was Union Capital.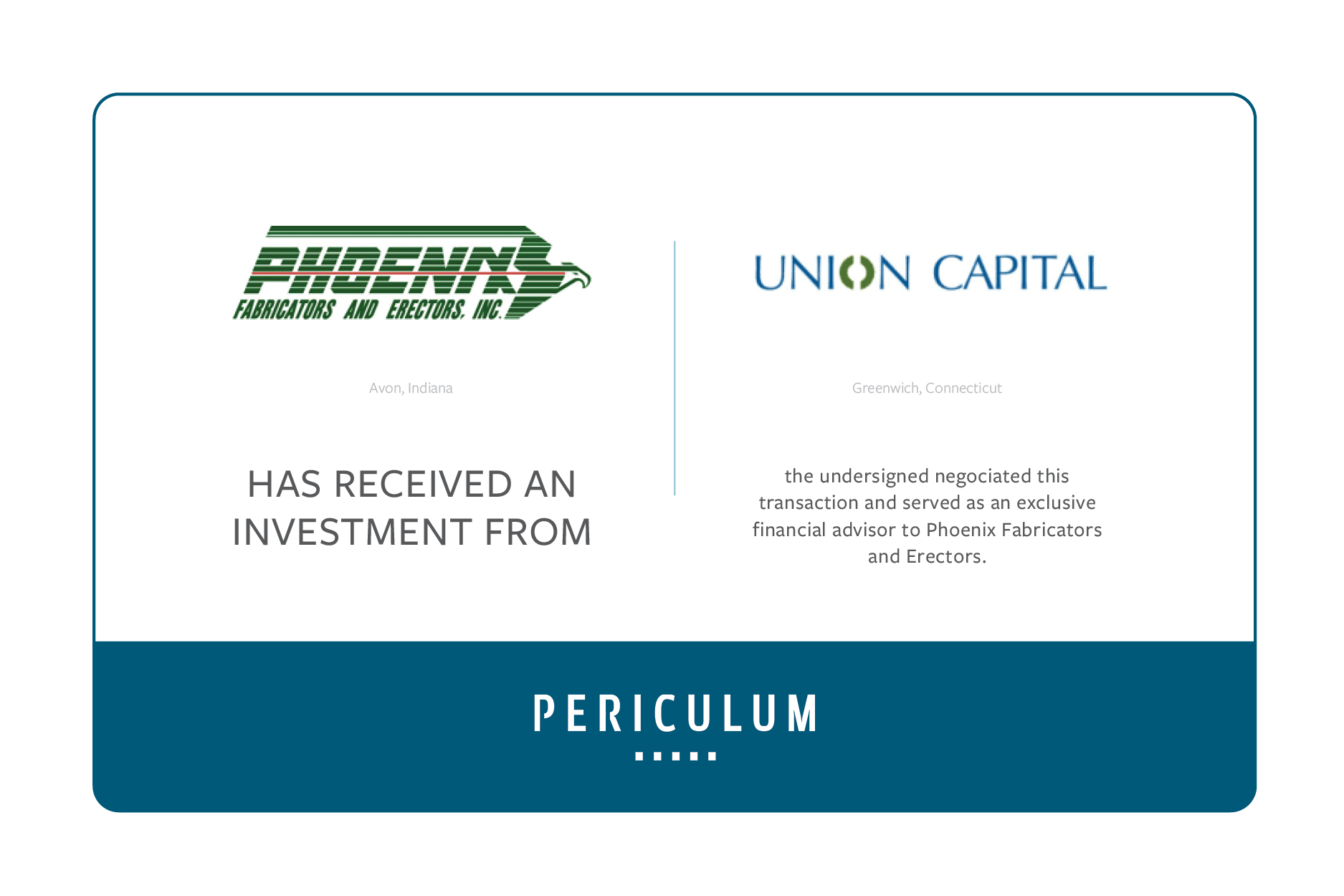 Jeff Short, one of the founding partners of Phoenix, stated, "I will continue to serve on the Board of Directors and Management Advisory Committee but this is a great opportunity for Tim Yohler, Kurt Fuller, and Jonathan Dixon, a seasoned management team that we trained and promoted and who have over 50 years of combined experience building composite and steel tanks, to partner with an investment team that has an extensive track record of helping private companies grow and expand." Tim Yohler, President of Phoenix, echoed this sentiment by saying, "In the 23 years I have been at Phoenix, this is the biggest opportunity we have ever had to expand our presence in the elevated water tank market and specifically to continue our momentum in the composite tank market. Phoenix has seen incredible growth during the past five years in this segment, constructing over 50 composite tanks of all sizes, including 30 composite tanks that are over 1 million gallons in capacity. The Periculum team did an excellent job positioning our growth story and identifying quality potential partners. The Union Capital investment will allow us to increase our share in this market substantially." Bill Ogden, Managing Partner at Union Capital added, "Our team is excited to provide the capital to Phoenix to continue their growth in the elevated water tank market. We were extremely impressed with the reputation of their products and the experience and dedication of Tim Yohler and the rest of the management team. Throughout our nearly 50-year history the key to our success is partnering with great management teams and providing them with the capital to take advantage of market opportunities like the composite tank market."