Periculum Capital Company, LLC ("Periculum") is pleased to announce it has advised Hoosier Penn Oil, Inc. ("HP Oil" or the "Company"), an Indianapolis, IN based distributor of bulk and packaged motor oil, related automotive lubricants, and car care chemicals, in its sale to Cadence Petroleum Group ("Cadence"), backed by Wellspring Capital Management, LLC ("Wellspring").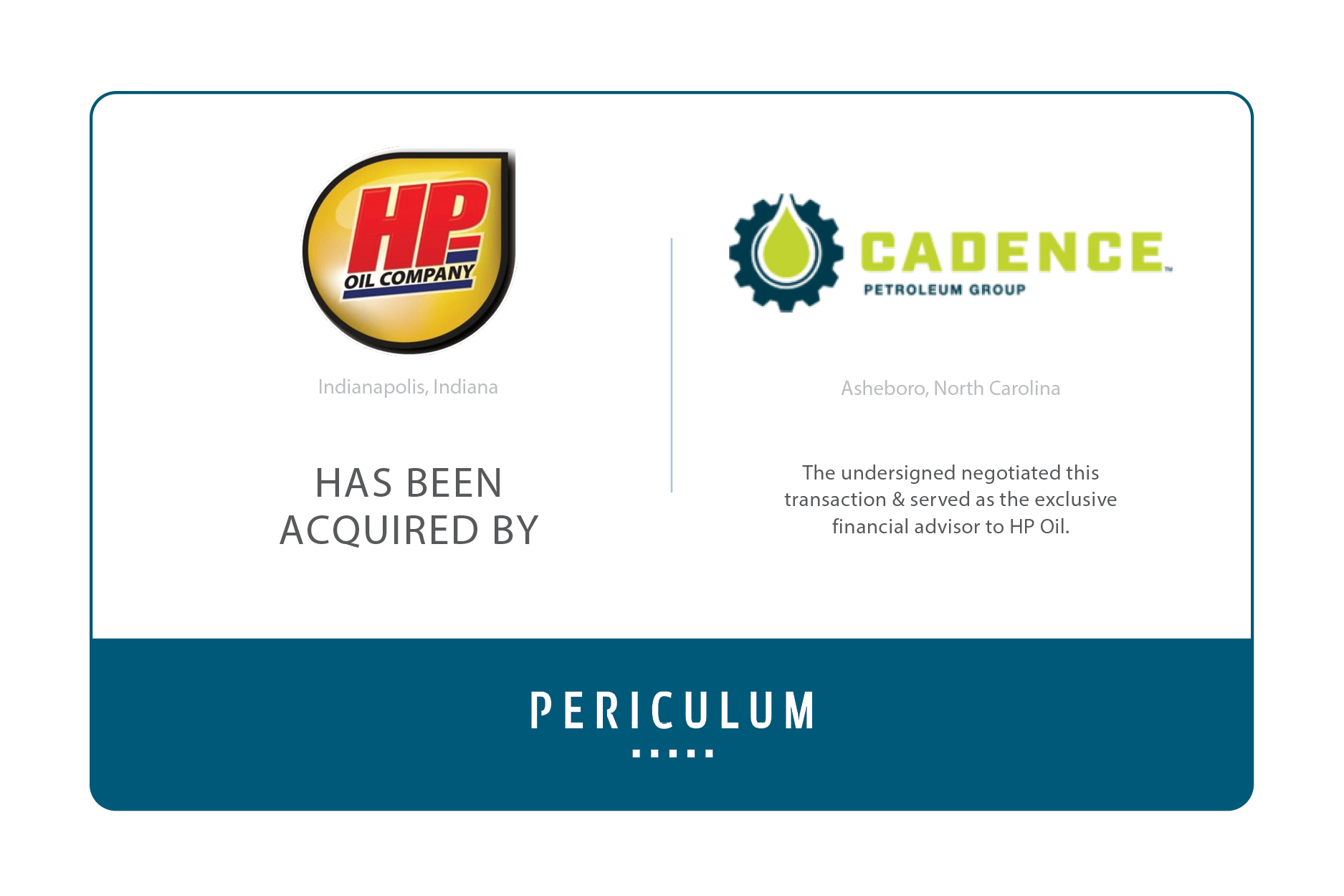 HP Oil was founded in 1976 by Terry Blakely to serve central Indiana with bulk and packaged motor oils and associated automotive lubricants. The Company subsequently acquired several smaller oil distributors and launched its car care chemical offerings in 2002. Current owner, Brian Johnson, joined the Company in 1998 as its CFO before becoming an equity partner and eventually acquiring the entire Company. Today, HP Oil serves its car dealership, oil change, and car detail shop customers from its three Indiana facilities in Indianapolis, South Bend, and Jeffersonville, and from its fourth location in Kansas City, MO. The Company has been a longstanding distributor for the Ford Motorcraft program and has also built a suite of widely used house brand products serving the passenger car motor oil market.
HP Oil engaged Periculum to lead a customized sell-side process that would maximize the financial outcome for ownership while ensuring the Company and its team members were well-positioned for future growth alongside the right strategic partner. Periculum leveraged the Company's strong vendor arrangements and strategically located distribution facilities to best position HP Oil as a differentiated asset in a quickly consolidating market. This positioning drove active competition among numerous aggregators in the oil and lubricant distribution space, culminating in multiple bids that gave ownership a number of options from which to choose in order to best meet its primary objectives. Cadence, a Wellspring portfolio company and one of the largest distributors of lubricant, fuel, and other ancillary products in the eastern portion of the United States, was an ideal buyer as it sought to increase the density of its Indiana footprint following the acquisition of another Indiana distributor last year. The Company will continue to operate as Hoosier Penn Oil while leveraging the additional products and services now available as part of Cadence Petroleum Group to best serve its customers moving forward.
"Since most of us will only get one chance to sell our companies you want to get it right," commented HP Oil owner Brian Johnson. "There are a lot of investment bankers out there, so I did my research and found that one of the best just happened to be in my backyard. Periculum was careful, thoughtful, and purposeful with my company, and with me. From engagement letter to closing, the team at Periculum was always there to guide me, counsel me, and fight for me. Their ability to build the story of my company and always listen to my concerns made them the perfect partner for the sale of a business where I spent 26 years of my life. I will always be grateful I had them on my side."
"We are thrilled with the acquisition of HP Oil. The Company is a great fit to further our growth strategy," added Tyson Pugh, Cadence SVP of Business Development & Strategy. "We are grateful that Brian chose to sell his company to us and appreciate that Brian, with support of the Periculum team, ran a highly professional and efficient process."
Faegre Drinker Biddle & Reath LLP served as HP Oil's legal advisor and Katz, Sapper & Miller served as the Company's accounting and tax advisor.
About Periculum Capital Company, LLC
Periculum is a leading investment and merchant banking firm serving the corporate finance needs of middle market companies. The firm was founded in 1998 to provide sophisticated financial advisory and transaction services. Periculum is committed to achieving superior outcomes for its clients by delivering customized investment banking services that maximize value while still meeting clients' individual goals and objectives. The firm's primary services include M&A, capital markets, and restructuring advisory, as well as specialized merchant banking services.