Periculum Capital Company, LLC ("Periculum") is pleased to announce it advised AMW Construction Supply, LLC ("AMW" or the "Company"), a Phoenix-based distributor of construction supplies, tools, fasteners, and related products, in its sale to Gypsum Management & Supply, Inc (NYSE:GMS) ("GMS").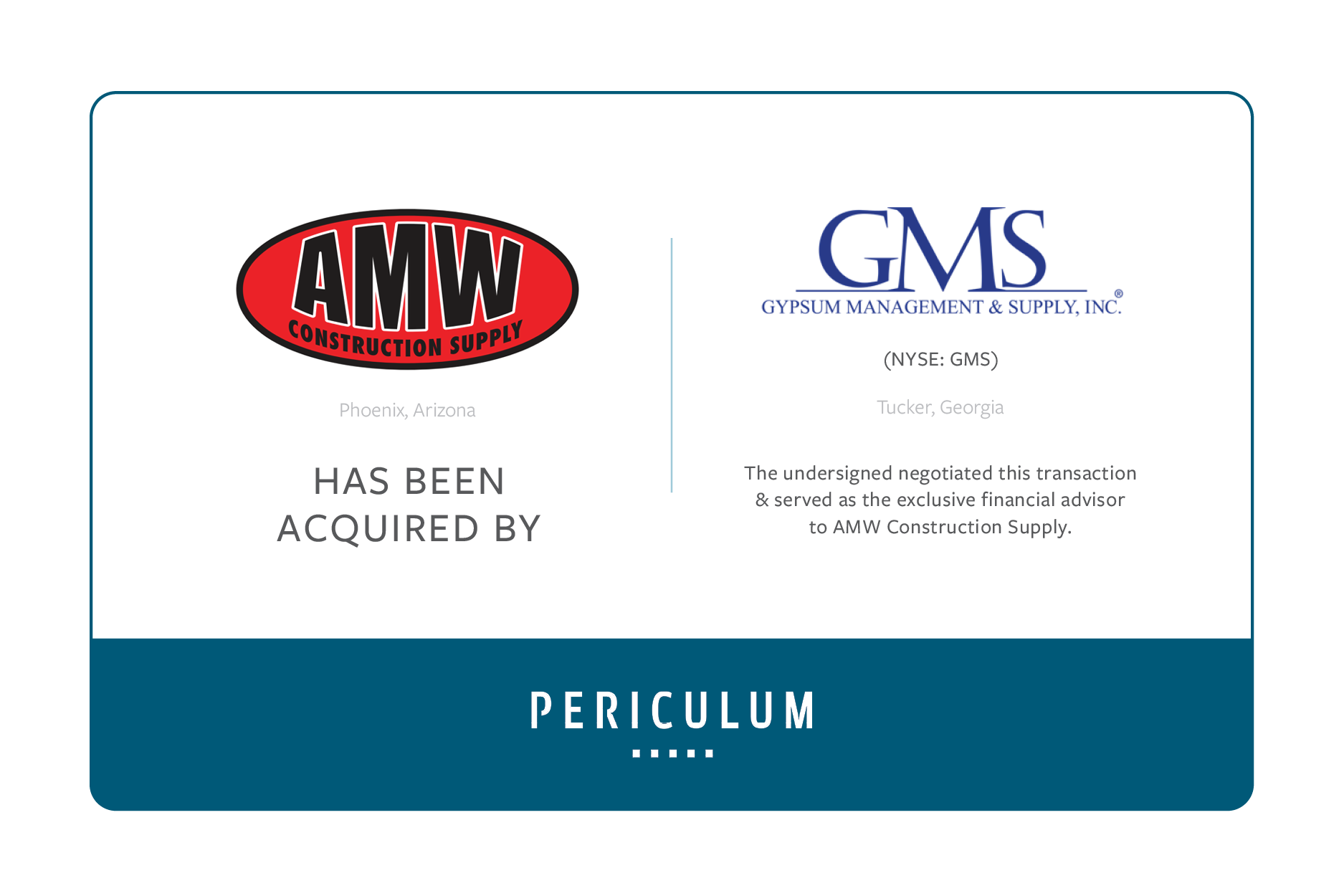 Periculum ran a customized sell-side process primarily targeting strategic buyers that could leverage AMW's strong position in a booming metro market bolstered by both new residential construction and remodeling activity.
AMW was founded in 1984 to provide the Phoenix metro area with high-quality tools and fasteners predominantly used within the construction, stone, and brick products industry. The Company is now a leading regional distributor and preferred partner for both commercial and residential clients who depend on AMW's entrenched relationships with key industrial product manufacturers to deliver a comprehensive product offering in a timely fashion.
Periculum was engaged to lead a sell-side process based on its long-standing relationship with AMW's ownership and previous industry transaction experience. With a number of active consolidators in the space, Periculum successfully positioned the company as a market leader in a growing local market that continued to see significant demand for new residential and multi-family housing development despite construction slowdowns in other parts of the country. Ultimately, GMS, a leading North American specialty building products distributor, was the ideal partner to leverage its extensive network and resources to grow AMW's existing operations while preserving the Company's service-focused culture and local market reputation. The Company will continue to operate under its legacy name while expanding GMS's complementary product portfolio and geographic presence within the Phoenix metro market.
Commenting on the transaction, Scott Brown, Chairman of AMW, complimented Periculum Capital, "I have worked with Periculum on several transactions, and they never disappoint. They were well-organized and made the due diligence process and documentation run smoothly. Thanks to the entire Periculum team for bringing us to a successful closing!"
About Periculum Capital Company, LLC
Periculum is a leading investment and merchant banking firm serving the corporate finance needs of middle market companies. The firm was founded in 1998 to provide sophisticated financial advisory and transaction services. Periculum is committed to achieving superior outcomes for its clients by delivering customized investment banking services that maximize value while still meeting clients' individual goals and objectives. The firm's primary services include M&A, capital markets, and restructuring advisory, as well as specialized merchant banking services.