Periculum Capital Company, LLC ("Periculum") is pleased to announce it advised Pet Palace Enterprises, LLC ("Pet Palace" or the "Company"), a Columbus, OH based provider of pet boarding, daycare, and grooming services, in its sale to Destination Pet.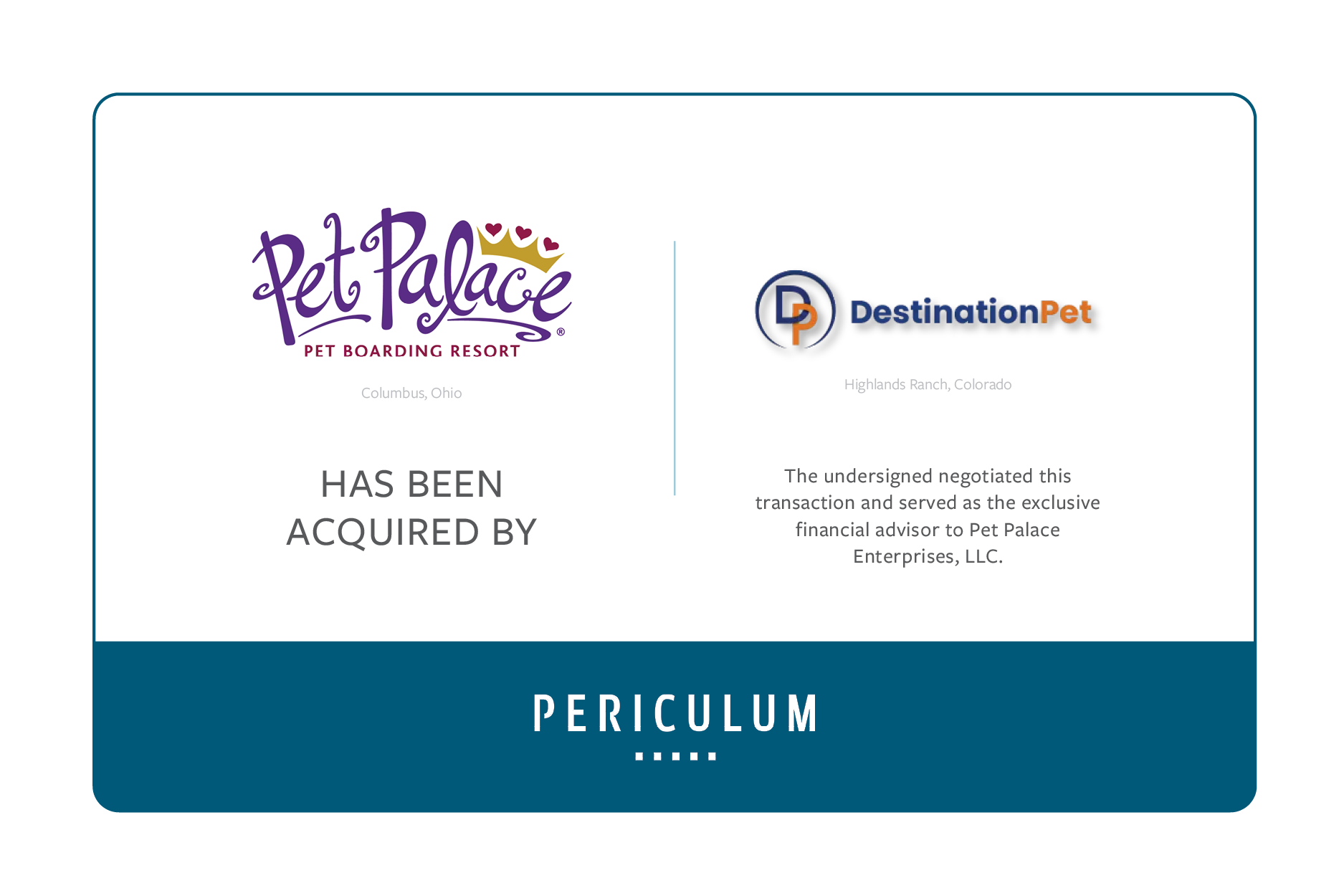 This deal marks Periculum's third transaction in the rapidly evolving pet care services industry. Periculum leveraged its experience and network in the industry to run a customized process focused on finding the right partner to value, preserve, and accelerate the Pet Palace brand while maintaining the Company's exemplary employee base.
Founded in 2006, Pet Palace has developed an excellent reputation as a leading provider of high-quality boarding, daycare, and grooming services for dogs and cats. The Company successfully grew to 11 premier locations across four states over its nearly 20-year history, solidifying itself as the fourth largest company-owned pet boarding provider in the country.
After successfully opening three new locations in 2020 and 2021, Pet Palace engaged Periculum in late 2022 to run a targeted sell-side process positioning the Company as a premium asset in a highly fragmented market. Periculum facilitated and led negotiations with strategic and financial buyers to value the embedded growth in existing resorts and the growth potential of future de novo locations. As one of the leading consolidators of pet resorts in the U.S., with a unique technology value proposition, Destination Pet was the perfect partner to carry forward the Pet Palace brand and propel the Company's commitment to high quality pet care beyond its current footprint.
"Periculum's strategy and expertise provided our company a robust transaction process with an ideal outcome," said Brian Hudock, founder and CEO of Pet Palace. Zainab Bass, Managing Director at Periculum, echoed this sentiment, "As someone who has been following the Pet Palace growth story for several years, I could not be happier for Brian and his team. They have truly built a best-in-class pet resort brand that will continue to thrive under Destination Pet's ownership."
About Periculum Capital Company, LLC
Periculum is a leading investment and merchant banking firm serving the corporate finance needs of middle market companies. The firm was founded in 1998 to provide sophisticated financial advisory and transaction services. Periculum is committed to achieving superior outcomes for its clients by delivering customized investment banking services that maximize value while still meeting clients' individual goals and objectives. The firm's primary services include M&A, capital markets, and restructuring advisory, as well as specialized merchant banking services.