Periculum Capital Company, LLC ("Periculum") is pleased to announce the completion of a $360,000 Seed Stage Financing for Zorion Medical, Inc. ("Zorion" or "Company"). The BioCrossroads Indiana Seed Fund I participated with Periculum in this funding round.
Zorion is a medical device company focused on developing the next generation of drug-eluting, bio-absorbable stents. The company intends to advance the technology through initial human study and will seek commercial partners for worldwide markets. Zorion was founded in 2010 by three experienced medical device development executives and is chaired by a former Eli Lilly & Co. executive, David A. Broecker.
Current metal and drug-eluting stents are a $6 billion market globally. These devices are permanently implanted and as a result, patients must stay on a combination of drugs to prevent the formation of clots within the stent. The occurrence of such clots, called Late-Stage Thrombosis (LTS) results in the death of about 50,000 people a year worldwide.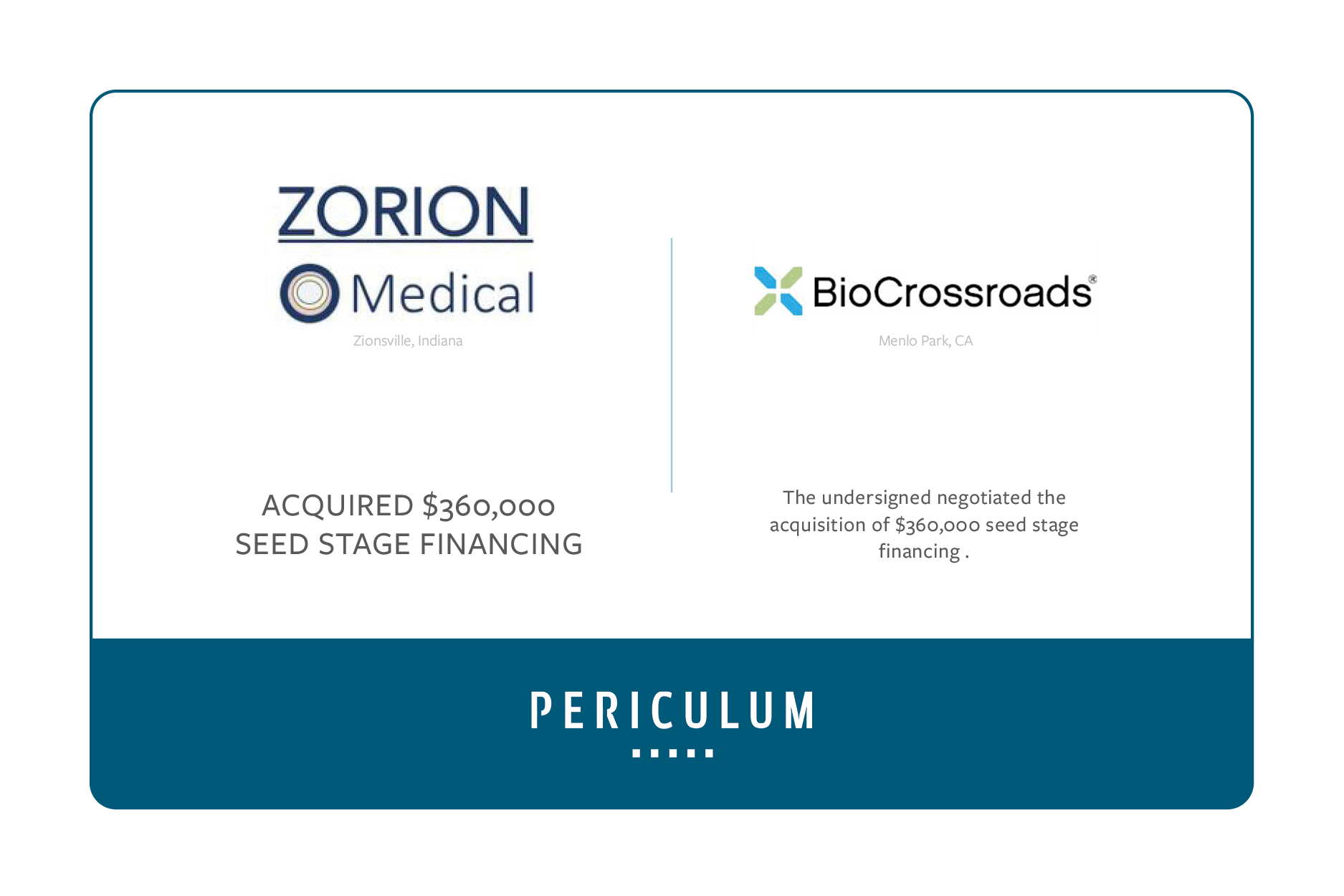 Major companies are working to develop their own absorbable stents; however, most of these programs utilize polymer-based technologies which can take up to two years to absorb, can be difficult to implant, and are useful in a limited number of coronary interventions. Zorion's non-toxic, proprietary biomaterial alloy and design will have the performance and deployment characteristics of drug-eluting metal stents while being completely absorbable obviating the need for long-term drug therapy to prevent LTS.
Zorion has recently completed a small animal study testing the lead biomaterial alloy for absorption and biocompatibility with very encouraging results showing little to no inflammatory tissue response and almost full absorption at 90 days. The Company's next phase of development includes refining the properties of the biomaterial and completing the development of a design prototype that will be tested in a large animal model Zorion expects to complete in Q2, 2012.
The Company plans to further optimize the product design and expand the pre-clinical data set through additional large-animal studies, completing the final activities to begin human clinical studies in Q1, 2014. Zorion has filed provisional patents on the unique aspects of the biomaterials and overall stent design for cardiovascular and vascular applications.
Periculum worked with the founding shareholders from the inception of the Company to assist with the numerous product development, intellectual property and strategic issues prior to this round of seed funding.