Periculum Capital Company, LLC ("Periculum") is pleased to announce it has completed the sale of Central States Enterprises, LLC's ("CSE" "Company") two grain terminal elevators to ADM (NYSE: ADM). The elevators are located in northeastern Indiana and consist of a combined licensed grain storage of 30 million bushels.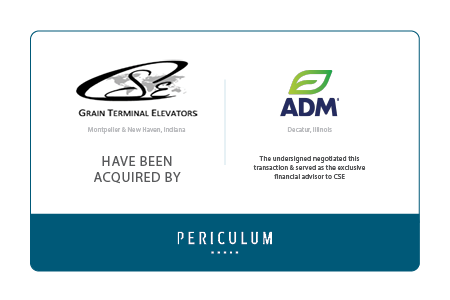 Periculum has been CSE's exclusive Financial Advisor for several years, completing multiple debt placements, a minority equity sale, and other periodic assignments. Periculum was pleased to once again be of service to the Company.
Headquartered in Heathrow, Florida, CSE has had significant grain origination operations in Indiana for the past 45 years.
About Periculum Capital Company, LLC
Periculum is a leading investment and merchant banking firm serving the corporate finance needs of middle market companies. The firm was founded in 1998 to provide sophisticated financial advisory and transaction services. Periculum is committed to achieving superior outcomes for its clients by delivering customized investment banking services that maximize value while still meeting clients' individual goals and objectives. The firm's primary services include M&A, capital markets, and restructuring advisory, as well as specialized merchant banking services.