Periculum Capital Company, LLC ("Periculum") is pleased to announce that it acted as the exclusive financial advisor to Onsite Space LLC d/b/a Tyson Onsite ("Tyson" or the "Company") in its sale to WillScot Corporation (NASDAQ: WSC) ("Williams Scotsman").
Founded in 1967, Tyson is a regional leader in the sale and rental of mobile offices, modular buildings, portable classrooms, and other storage solutions. In 2012, following the economic recession and passing of its then-owner, the Company was acquired by entrepreneurs and industry veterans Brent and Matthew Claymon who saw an opportunity to jump back into the industry they knew well and transform a struggling Company. The Claymons achieved significant growth during their ownership by investing in fleet and equipment, hiring a strong management team, and improving business practices, resulting in a market-leading Company well-known for its quality, capabilities, and service.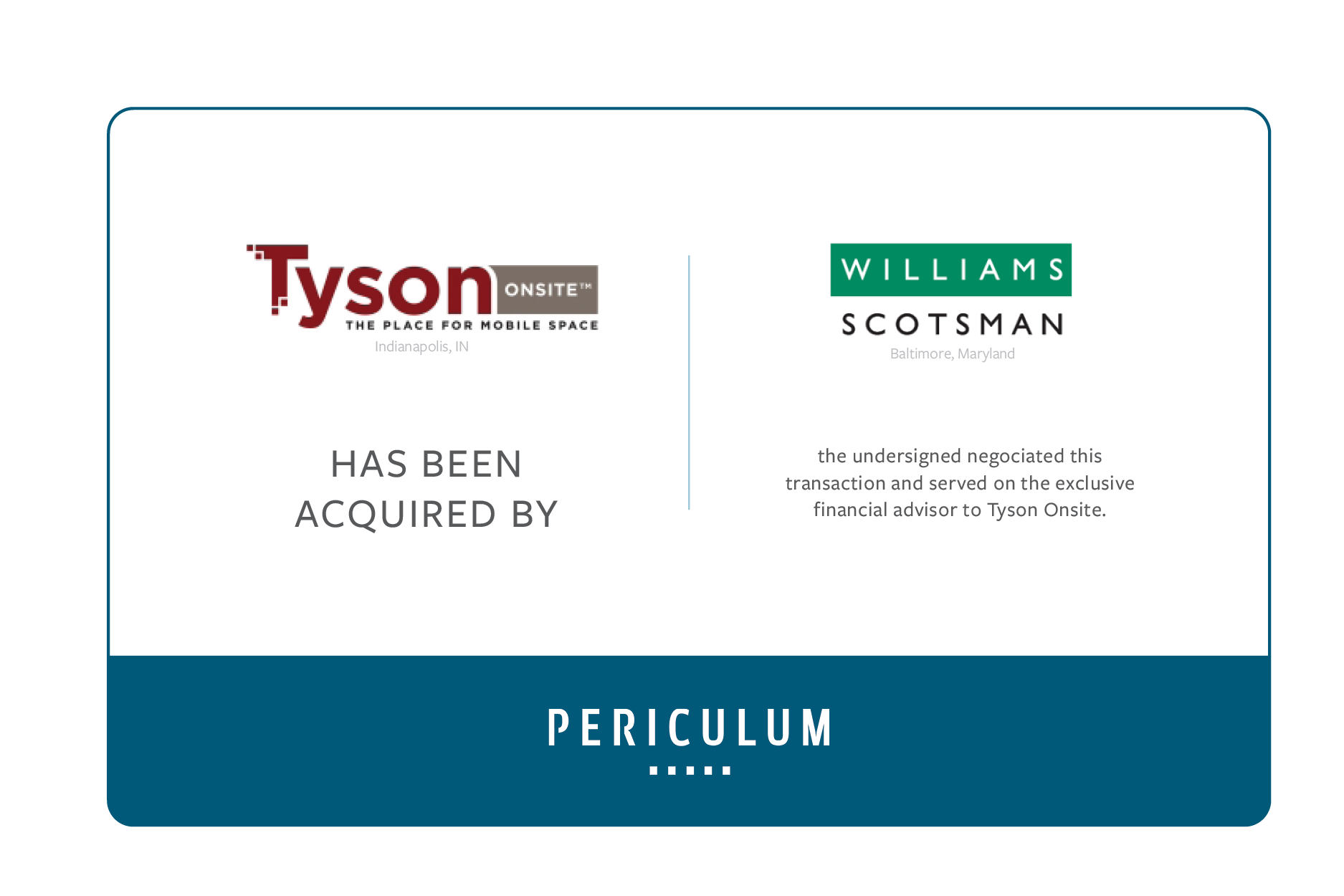 After nearly six years of ownership, the Claymons decided to sell the Company to focus on other businesses and investment opportunities, engaging Periculum to run the sale process. While the universe of potential acquirers in the industry was small and well-known, Periculum was able to drive a strong and competitive process, ultimately resulting in the Company's sale to Williams Scotsman (NASDAQ: WSC) – a large, national competitor looking to enhance its Midwest presence. The Claymons reflected on the positive outcome, stating, "the process went smoothly and Periculum's experience and knowledge made that happen."
Headquartered in Baltimore, Maryland, WillScot Corporation is the public holding company for the Williams Scotsman family of companies in the United States, Canada, and Mexico. WillScot Corporation trades on the NASDAQ stock exchange under the ticker symbol "WSC." Williams Scotsman is a specialty rental services market leader providing innovative modular space and portable storage solutions across North America. Williams Scotsman is the modular space supplier of choice for the construction, education, health care, government, retail, commercial, transportation, security, and energy sectors. With over half a century of innovative history, organic growth, and strategic acquisitions, its branch network includes over 100 locations, its fleet comprises nearly 100,000 modular space and portable storage units, and its customer base has grown to approximately 35,000.