Periculum Capital Company, LLC ("Periculum") is pleased to announce that it served as the buy-side advisor to Reputation Services and Manufacturing, LLC. ("RSM") in its acquisition of Fleet Service of Tulsa, Inc. ("Fleet"). This marks Periculum's third energy and oil services related transaction in the last 18 months. Periculum is highly focused on advising businesses involved in the energy services industry regarding mergers and acquisitions and capital raising.
RSM is a holding company founded by a group of seasoned oil field equipment professionals for the purpose of acquiring businesses involved in the manufacturing, remanufacturing, service, repair, and testing of oil field servicing equipment. The Company is specifically focused on hydraulic fracturing pumps and related equipment used by major well servicing companies. The acquisition of Fleet represents the initial platform investment to facilitate sourcing business from several major, multi-national well servicing companies involved in the most active shale plays around the globe.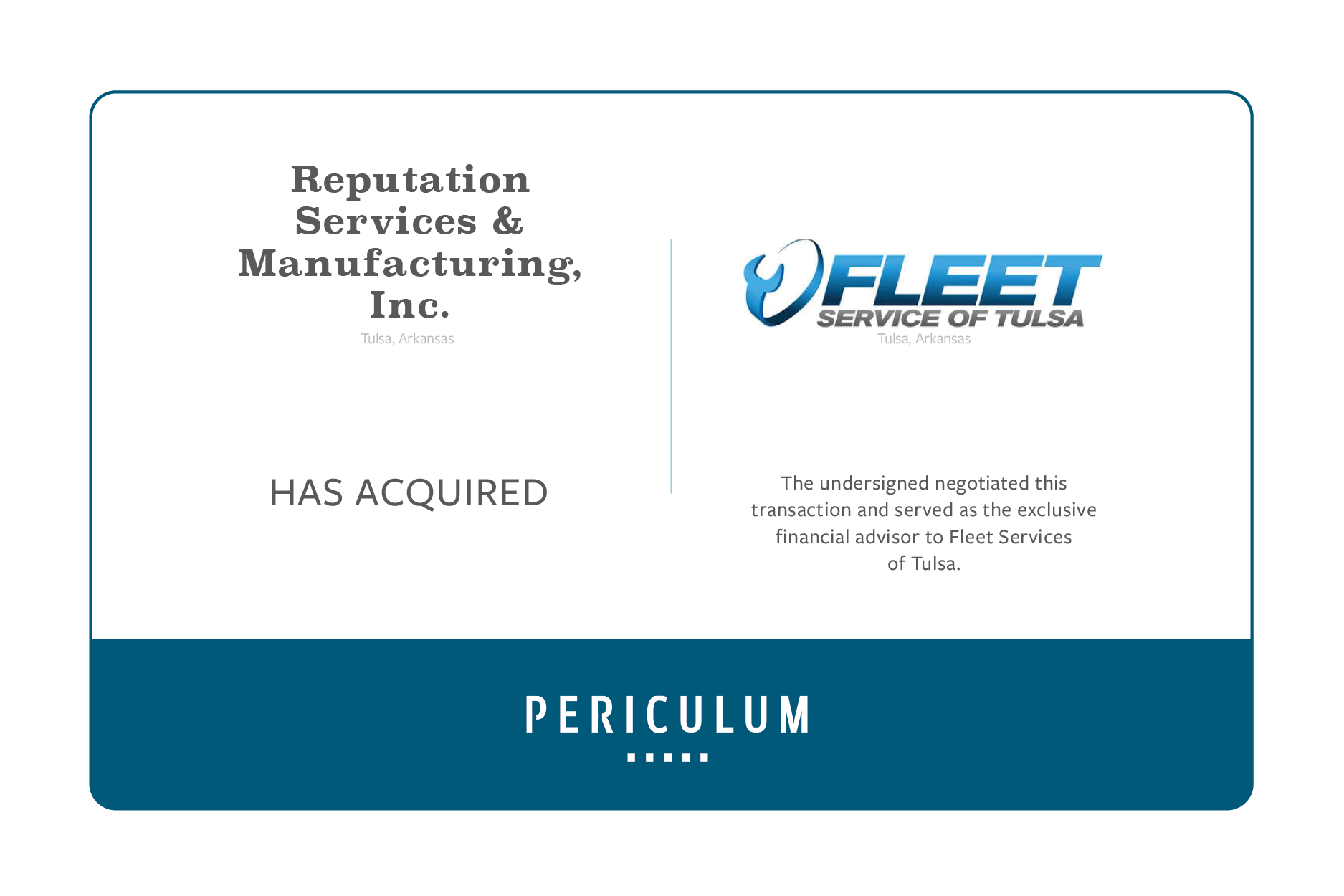 Headquartered in the Tulsa, Oklahoma metropolitan area, Fleet is ideally situated in the nation's transportation corridor, as well as centrally located to many of the country's most active shale plays. These plays include the Eagle Ford, Barnett, and Permian of Texas, the Bakken of North Dakota, the Haynesville of Louisiana, the Utica of Ohio, and the Marcellus of Pennsylvania. Fleet specializes in the testing and repair of various types of high-spec well servicing equipment, as well as performing engine overhauls, transmission overhauls, and repairs on a variety of equipment from the on-highway, arborist, and general off-highway industries. The Company's 20 year track record and strong brand name are recognized throughout the industry for providing first class remanufacturing, repair, and testing services.
As RSM's financial advisor on the Fleet transaction, Periculum's activities included assisting with valuation, negotiations, documentation, and providing various analytical support. Periculum will continue to be involved with the Company assisting the management team in sourcing, evaluating, and capital raising to support RSM's strategic growth opportunities in the oil field equipment industry.