Periculum Capital Company, LLC ("Periculum") is pleased to announce the sale of Pretzels, Inc. ("Pretzels" or the "Company") to Peak Rock Capital ("Peak Rock"). Periculum acted as the exclusive financial advisor to Pretzels. The transaction further expands Periculum's established resume of completed transactions in its growing food vertical.
Headquartered in Bluffton, Indiana, Pretzels manufactures an extensive array of salty-snack products, including traditional, peanut-butter-filled, flavored, seasonal, and gluten-free pretzels, as well as extruded products. Serving a diverse, blue-chip customer base comprised of leading grocers and national brands, Pretzels has maintained an outstanding reputation for excellent customer service and exceptional product quality since its founding in 1978 by Bill Mann and Bill Huggins.
A number of factors have driven significant changes in the salty-snack space over the last several years, including the continued growth of private label versus branded products and an increased focus on healthy and "better-for-you" products. In order to capitalize on these changing industry dynamics, the Company built a state-of-the-art facility in Plymouth, Indiana in 2017 to complement its existing operations in Bluffton, while simultaneously making the decision to seek an outside investment partner.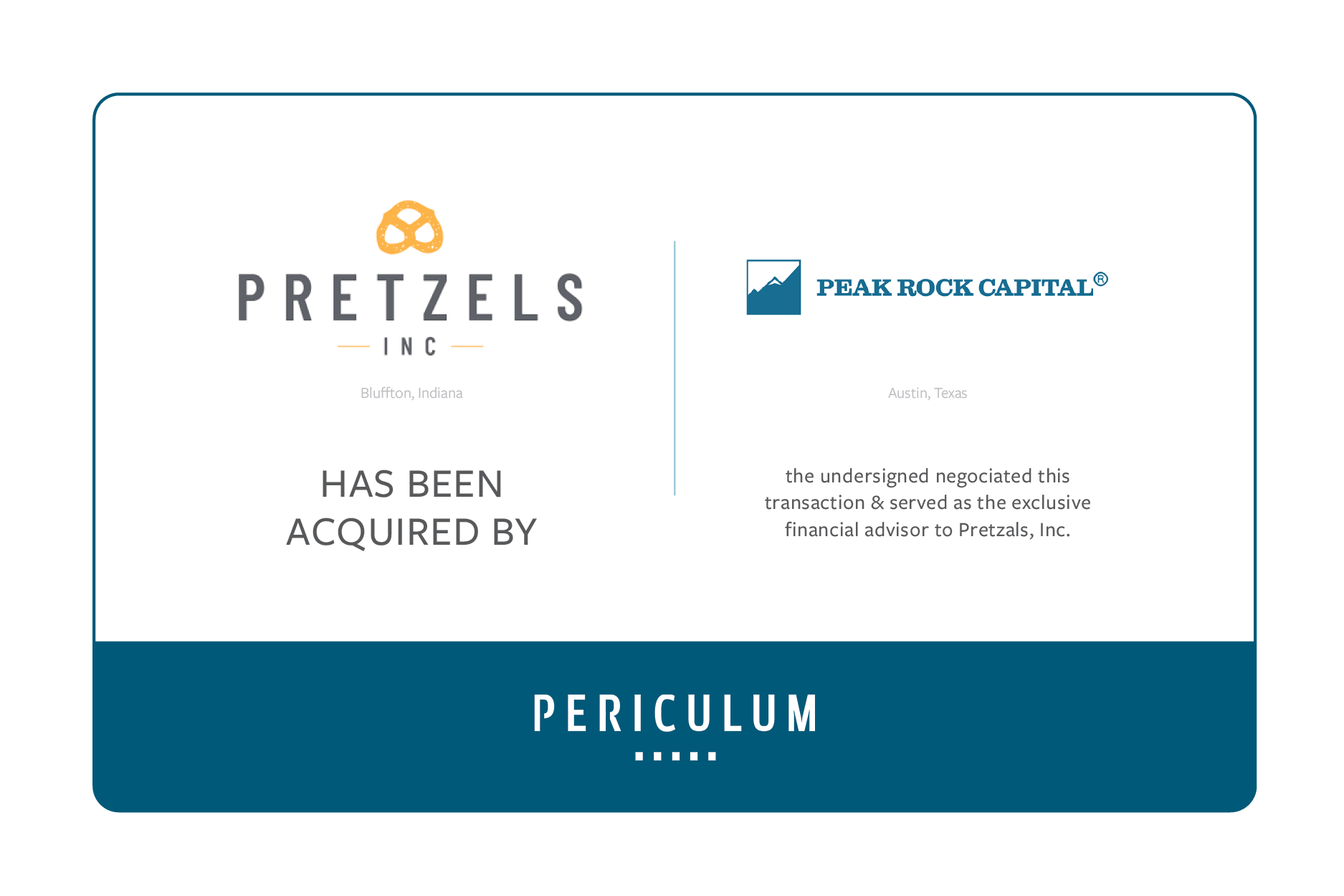 Pretzels selected Periculum to execute a customized process to find a partner that would meet the objectives of both the Huggins and Mann families as well as the current management team. The objectives included getting an attractive valuation for the business and finding a partner that would fit the Company's culture while providing the expertise and capital to help facilitate growth. After running a targeted process that resulted in significant buyer interest, the Company's shareholders determined that Peak Rock was the best partner to help transition company leadership while supporting the remaining owners and management team as they continue to expand the business.
Co-CEO and EVP of Sales, Chip Mann, remarked, "Our experience working with Periculum was very rewarding and they truly understood our needs. They helped us achieve an exceptional outcome and found a partner in Peak Rock that should allow us to capitalize on a variety of exciting opportunities ahead."
"We had a positive experience working with the Periculum team throughout the Pretzels transaction process," added Robert Strauss, Managing Director of Peak Rock. "We are excited to partner with the Company's talented management team and the Huggins and Mann families to grow this snack platform through product innovation, investments in the Company's capabilities, and add-on acquisitions."