Periculum Capital Company, LLC ("Periculum") is pleased to announce the sale of PetSuites of America, Inc. ("PetSuites" or the "Company") to National Veterinary Associates, Inc. ("NVA") Periculum acted as the exclusive financial advisor to PetSuites' shareholders in connection with the sale of the Company.

PetSuites, founded in 2000, is a leading provider in the rapidly expanding pet boarding industry due to its high quality, differentiated services and consistent operations. The Company offers a set of customizable pet care services, broadly segmented as: (i) canine and feline boarding, (ii) grooming, and (iii) daycare. The Company has grown significantly over the last several years and is well-positioned for explosive growth over the next decade.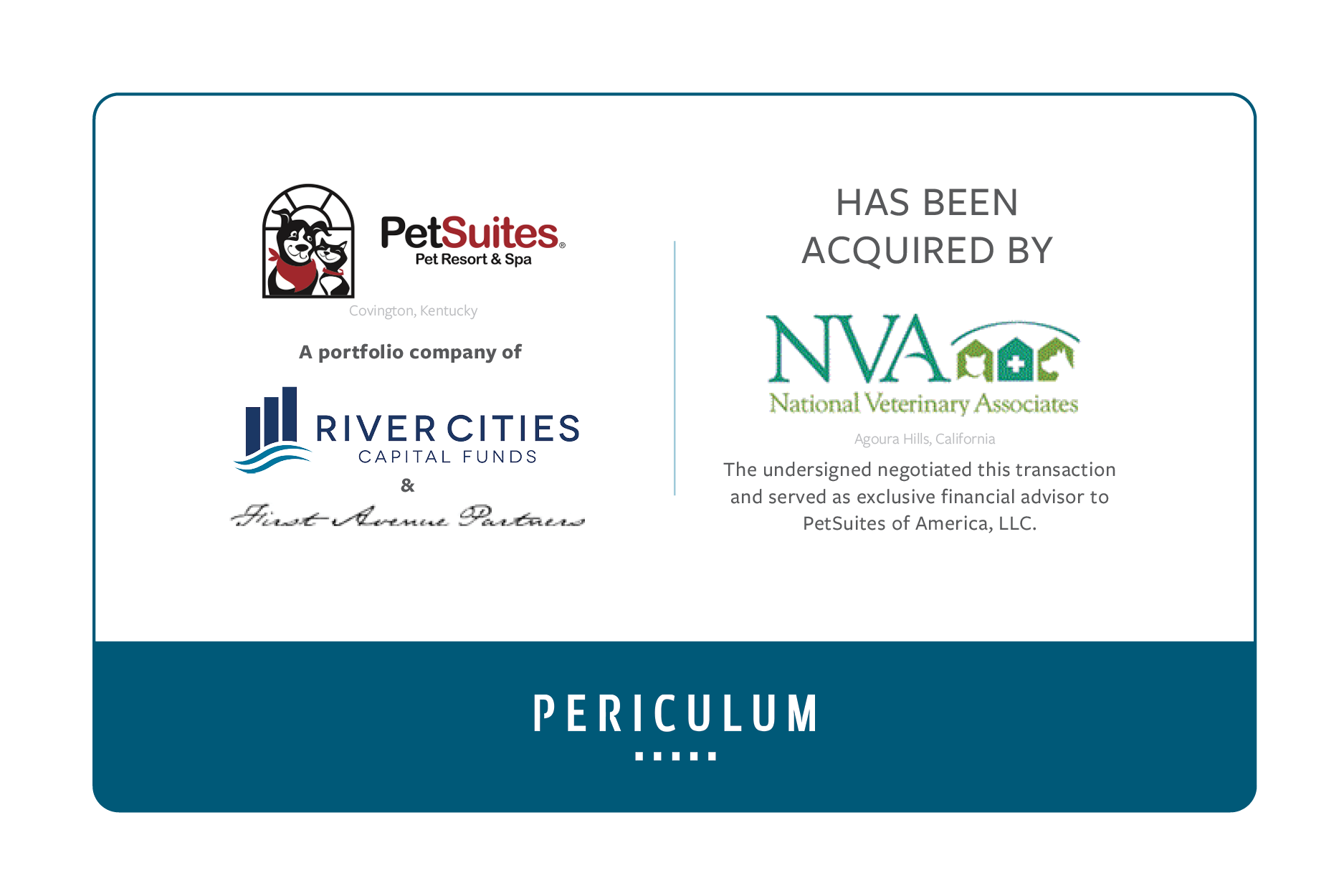 PetSuites' shareholders, including River Cities SBIC III, L.P. ("River Cities") and First Avenue Partners II, L.P. ("First Avenue"), decided in early 2014 to pursue additional capital to support the Company's growth plans. Periculum was engaged to explore various strategic alternatives available to the Company ranging from a minority growth capital raise to a full sale.
Periculum conducted an exhaustive and customized search of potential investors ranging from family offices to large companies in the broader pet space. Following management meetings with several potential investors, PetSuites' shareholders determined the best option was to sell the Company to NVA. The transaction with NVA not only provided a good valuation to the shareholders, but also provided the PetSuites' management team with the best partner to continue their culture and execute their growth plans. Rob Heimann, Director at River Cities and board member of PetSuites, echoed this sentiment by saying, "River Cities couldn't be happier with the outcome, as we ended up with a transaction that worked well for all parties involved. Periculum did an excellent job running an efficient process and driving the negotiations to a positive conclusion."
NVA, was founded in 1996 by Dr. Stan Creighton and is based in Agoura Hills, CA. It began with 22 hospitals in 7 states and today is the largest private owner of freestanding veterinary hospitals in the United States with over 250 hospitals in 39 states. NVA's mission is to improve the comfort and well-being of patients by providing progressive and compassionate veterinary care. Greg Hartmann, CEO of NVA, expressed his pleasure in the purchase by stating, "We are excited to have such a strong group of pet boarding and grooming facilities as PetSuites join the NVA family. We look forward to supporting the rapid growth of PetSuites with its focus on world-class service and are happy to welcome the PetSuites team."