Periculum Capital Company, LLC ("Periculum") is pleased to announce that on November 15, 2022, it completed the sale of Mi-Tech Tungsten Metals, LLC ("Mi-Tech" or "Company"), a leading manufacturer of critical components made from heavy tungsten alloys supplied to aerospace, energy and other government & commercial end markets, to Global Tungsten & Powders Corp. ("GTP"), the U.S. affiliate of The Plansee Group ("Plansee"), the global leader in the production of refractory metals, headquartered in Reutte, Austria.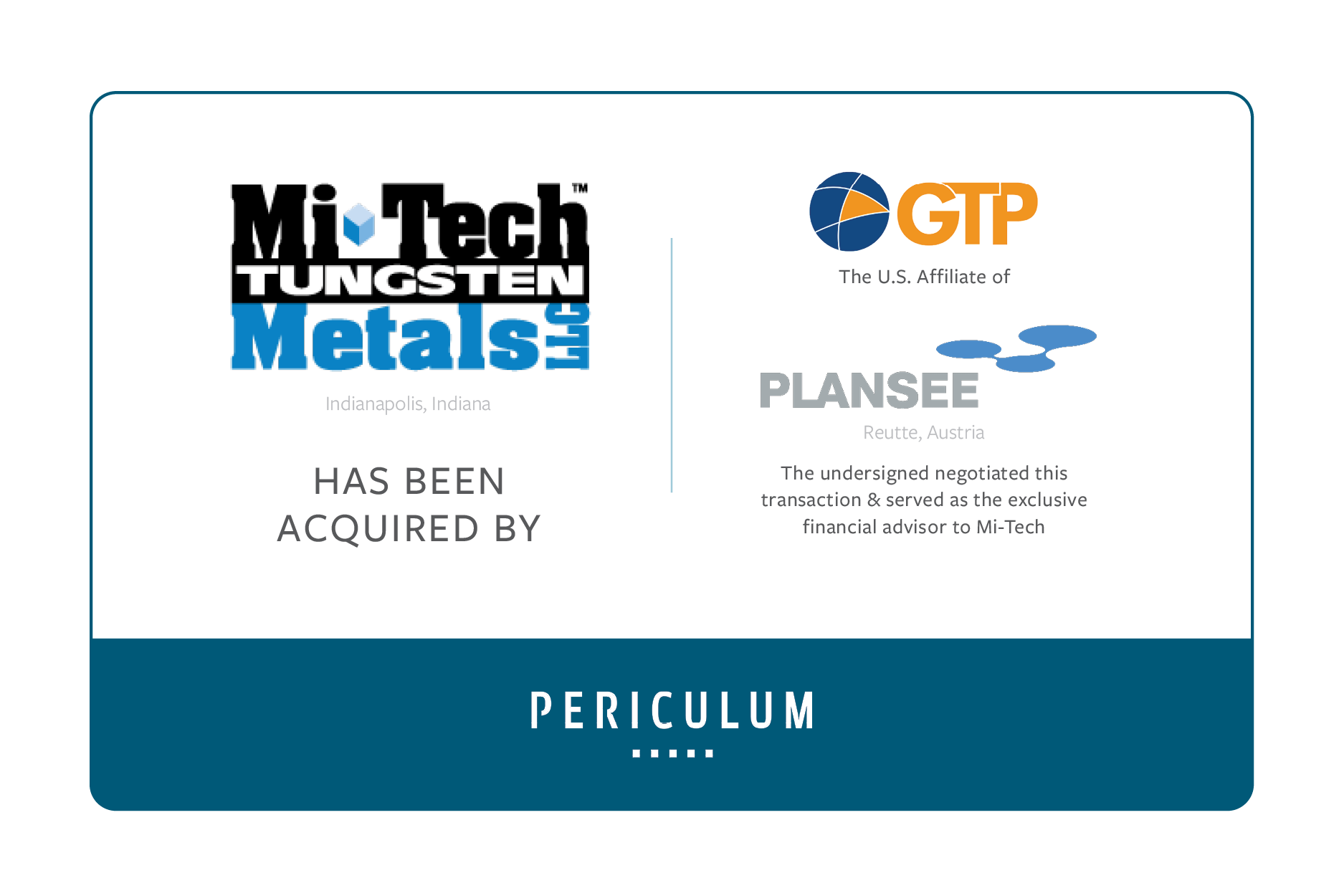 Periculum ran a global search as part of the customized sell-side process and successfully led Mi-Tech through a complicated, multi-pronged federal government approval process.
Periculum began formally working with Mi-Tech in December 2019 to find a buyer that could strengthen the Company's global supply chain, realize significant strategic synergies and qualify to own Mi-Tech 's portfolio of customer relationships that included controlled and classified federal government programs. Periculum, along with the Company's owner, A.J Bir and his multi-firm legal advisory team, negotiated and closed the sale transaction with Plansee and GTP after protracted negotiations with the Committee for Foreign Investment in the United States ("CFIUS"), the Department of Justice with respect to anti-trust review, and certain federal agencies regarding the mitigation of Foreign Ownership, Control and Influence ("FOCI").
Periculum was challenged to design a customized sell-side process due to the confidentiality of the government programs and a large concentration of the Company's financial performance linked to several highly-confidential programs. These challenges required telling the Company's story in a way that would generate interest from potential buyers without disclosing the applications of the products – in fact, the Periculum team could not know what the end uses of the products were.
The strategy Periculum designed was to focus the Company's story on its long-term historical financial success. The strategy also staged the release of information about the Company according to strict hurdles designed to minimize exposure to competitors and foreign entities. Periculum's most senior transaction leaders, Chris Caniff and Sean Frazer, orchestrated every detail of the strategy employed.
Periculum coordinated with Densborn Blachly (lead M&A counsel; Indianapolis, Indiana), Arnall Golden Gregory (counsel for government contracting and national security matters; Washington D.C.) and Arnold & Porter (counsel for anti-trust matters; Washington D.C.) to navigate a multi-agency review process that resulted in CFIUS approval, early termination of a second request anti-trust investigation and preliminary recommendation of a FOCI mitigation agreement. From the time of signing the equity purchase agreement, the federal government review process took nearly 11 months.
"Closing the acquisition of Mi-Tech by The Plansee Group is a testament to Periculum's single-most important differentiator from its competitors," said Chris Caniff. "Our senior transaction leaders are intimately involved in the execution of our clients' transaction processes and are tenacious in achieving our clients' goals."
"Without the senior leadership of Sean Frazer and Chris Caniff I am certain this deal would never have been completed," said A.J. Bir, Owner of Mi-Tech. "There were several times I thought the challenges we faced were insurmountable, but each time Sean and Chris came up with a creative solution and advocated ardently for me. Their skillful negotiating, creativity, and unwavering commitment to me was so much more than I ever expected to receive from an M&A advisor."
For more information about the intricacies of M&A transactions that implicate national security, foreign investment, or FOCI mitigation, please reach out via email to Sean Frazer (sfrazer@periculumcapital.com) or Chris Caniff (ccaniff@periculumcapital.com). To discuss any business or transaction matter, reach out to Chris, Sean or any member of the Periculum Capital Company team (www.periculumcapital.com/team/).
About Periculum Capital Company, LLC
Periculum is a leading investment and merchant banking firm serving the corporate finance needs of middle market companies. The firm was founded in 1998 to provide sophisticated financial advisory and transaction services. Periculum is committed to achieving superior outcomes for its clients by delivering customized investment banking services that maximize value while still meeting clients' individual goals and objectives. The firm's primary services include M&A, capital markets, and restructuring advisory, as well as specialized merchant banking services. www.periculumcapital.com
About Densborn Blachly
Densborn Blachly is a transaction boutique that is proud to serve the Midwestern business community. Midwesterners are independent, competitive, practical and productive. They innovate before they realize they do. They esteem pedigree not nearly as much as getting the job done. Densborn Blachly is of the same ilk. At Densborn Blachly, innovation occurs in the field and on the fly. Practical solutions are found in places previously unexplored. Client interests are protected against underappreciated risks. Desired outcomes are reached through tenacious pursuit. Densborn Blachly lawyers know how to work hard with intuition, creativity and effectiveness honed over decades of experience. And they relish the competition of it all — just as their clients do. For more information, please contact Don Densborn (ddensborn@dblaw.com) or visit www.dblaw.com.
About Arnall Golden Gregory LLP
Arnall Golden Gregory (AGG), an Am Law 200 law firm with 200 attorneys in Atlanta and Washington, D.C., takes a "business sensibility" approach when advising clients. AGG provides industry knowledge, attention to detail, transparency, and value to help businesses and individuals achieve their definition of success. AGG's transaction, litigation, regulatory, and privacy counselors serve clients in healthcare, real estate, retail, fintech/payment systems, global commerce/global mobility, government investigations and government contracts, life sciences, and logistics and transportation. AGG's government contracts attorneys assist clients in numerous industries to navigate the maze of statutes, regulations, and contractual provisions that companies must comply with when conducting business with the federal government. AGG subscribes to the belief "not if, but how." For more information, please contact Tenley Carp (tenley.carp@agg.com) or visit www.agg.com.