Periculum Capital Company, LLC ("Periculum") is pleased to announce that it acted as the exclusive financial advisor to Kinetrex Energy ("Kinetrex" or the "Company"), a wholly‐owned subsidiary of Citizens Resources ("Citizens"), in its sale to Parallel49 Equity.
Kinetrex was established by Citizens to manufacture, market, deliver, and store liquefied natural gas (LNG). LNG is natural gas that has been converted to liquid form for ease of storage or transport and is an affordable, safe, and reliable fuel alternative to diesel, waste oil, and propane. Headquartered in Indianapolis, Kinetrex has become the number one supplier of LNG in the Midwest, as well as a leading provider of pipeline natural gas (PNG) and renewable natural gas (RNG) energy solutions.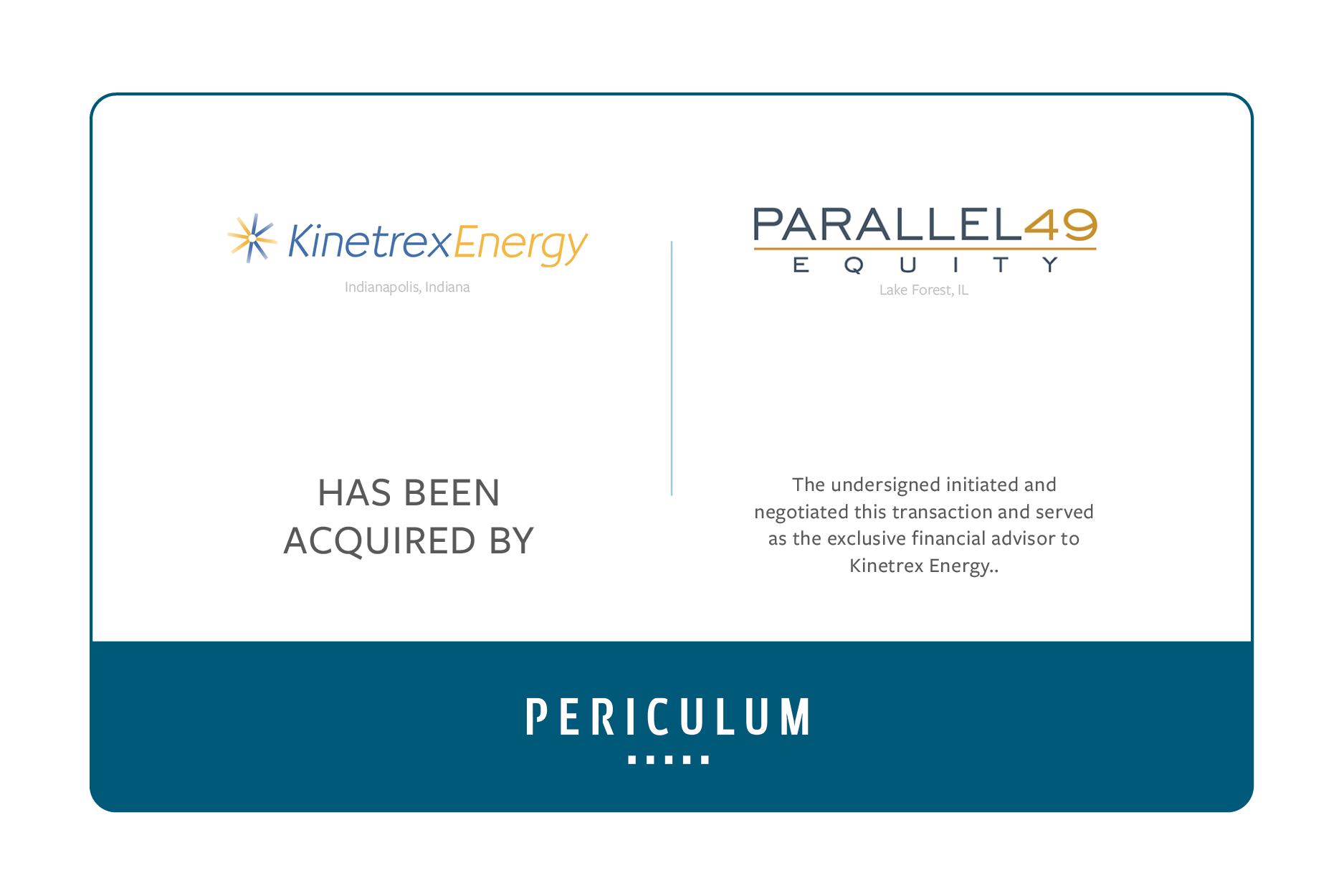 Citizens decided to sell its membership interests in Kinetrex because it determined that in order to continue to expand and maximize its already strong market position, Kinetrex would need access to additional capital that Citizens was not in the position to provide. Periculum was engaged to conduct a focused search of potential financial buyers to partner with the existing management team. Following an extensive process, Citizens' Board of Directors determined the best partner for Kinetrex was Parallel49 Equity. "Citizens Resources was pleased to work with Periculum Capital on our sale of Kinetrex Energy to private equity investor Parallel49 Equity. The staff at Periculum helped design and close a transaction that brought benefits to Citizens Resources while positioning Kinetrex Energy to grow here in Indianapolis as a leading provider of liquefied natural gas (LNG), pipeline natural gas (PNG), and renewable natural gas (RNG) energy solutions," said Michael Strohl, Senior Vice President, Chief Customer Officer, Citizens Energy Group.
Parallel49 Equity is a leading private equity firm that invests in profitable, well-managed, lower middle-market companies in the U.S. and Canada. Since its founding in 1996, the firm has managed over $1.2 billion of investor capital.