Periculum Capital Company, LLC ("Periculum") is pleased to announce the acquisition of Instrument Development Corporation ("IDC" or the "Company"), a portfolio company of Monument Capital Partners ("Monument"), by BERKS Group ("BERKS"). Periculum acted as the exclusive financial advisor to IDC.
Headquartered in Mukwonago, Wisconsin, IDC is a leading ultra-precision low volume, high value manufacturer and critical vendor for the world's top defense companies. IDC manufactures to print close tolerance, ultra-precision machined components primarily used for a wide variety of guidance and targeting systems in missiles, warfighter weapons, and fighter aircraft. Since its founding in 1987, the Company's brand recognition and reputation for delivering high quality, complex products has resulted in the award of several key long-term recurring programs from leading defense contractors.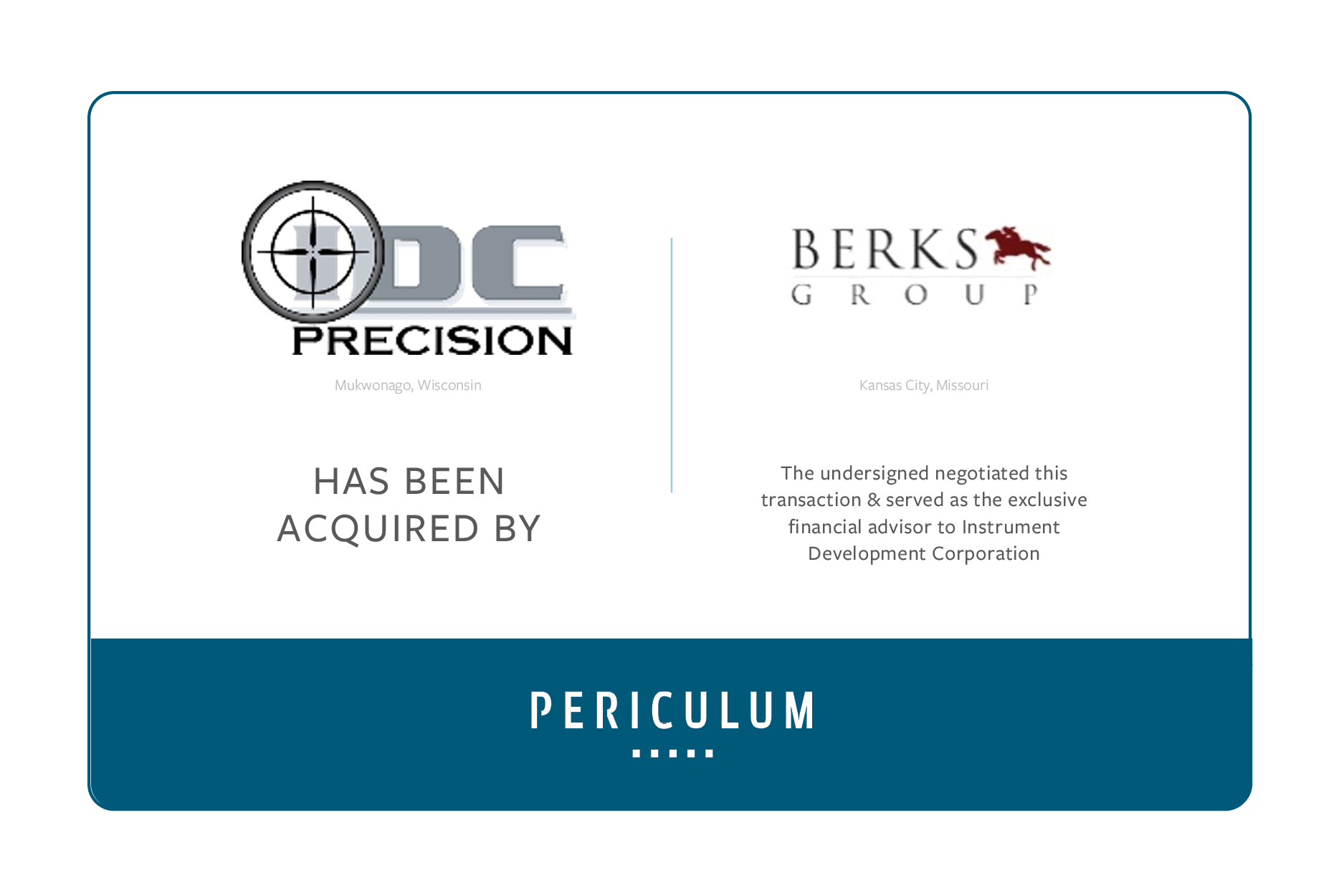 With global military spending continuing to rise, IDC is well-positioned to utilize its extensive knowledge base and state-of-the-art equipment to capitalize on significant growth opportunities. IDC's existing investors and stakeholders were evaluating opportunities to transition this investment while positioning the Company's management team for long-term future success. IDC engaged Periculum to execute a focused and customized process to select a long-term partner to provide the necessary capital to effectively back the management team to continue to grow the business. After running a targeted process to candidates with industry experience, the Company's shareholders and management determined that BERKS was the best partner to provide the financial and strategic support necessary to facilitate IDC's next phase of growth.
"We are extremely excited to have BERKS Group as our new partners to continue the foundation IDC has built since 1987," said Joe Schaffer, CEO of IDC. "Periculum did an outstanding job running a focused process that resulted in us finding an ideal partner with the long-term investment horizon, family values, and capital resources needed for the continued growth of IDC, its employees, and its customers."
"IDC is an outstanding company with a strong business foundation including excellent leadership and strong customer relationships." said Jay Longbottom, BERKS Group Operating Partner. "It is a perfect fit for BERKS' precision manufacturing platform."
Periculum has remained steadfast throughout 2020, continuing to work diligently with both current clients and potential prospects on key strategic decisions. Our persistence is driving strong results as we approach Q4 despite the common narrative that M&A activity is largely on hold due to the uncertainty surrounding COVID-19. Periculum continues to see significant interest and premium valuations for well-performing businesses across a variety of industries. We remain engaged and active, having executed three Letters of Intent in the last two weeks for sell-side transactions expected to close in Q3 2020. Please contact us if you would like to learn more about our process and how we have found compelling success for our clients during this challenging time.
About Periculum Capital Company, LLC
Periculum is a leading investment and merchant banking firm serving the corporate finance needs of middle market companies. The firm was founded in 1998 to provide sophisticated financial advisory and transaction services. Periculum is committed to achieving superior outcomes for its clients by delivering customized investment banking services that maximize value while still meeting clients' individual goals and objectives. The firm's primary services include M&A, capital markets, and restructuring advisory, as well as specialized merchant banking services. www.periculumcapital.com