Periculum Capital Company, LLC ("Periculum") is pleased to announce the recapitalization of Health Resources, Inc. ("HRI" or the "Company") by private equity funds managed by Hammond, Kennedy, Whitney & Company, Inc. ("HKW"). Periculum acted as the exclusive financial advisor to HRI in connection with the sale of the Company. HRI is a leading provider of dental benefits in Indiana and Kentucky. The Company was founded in 1986 by nine practicing dentists in Evansville, Indiana. The Company provides group dental insurance under the Dental Health Options® brand to 2,500 employer groups insuring over 160,000 members in Indiana and another 70,000 members in Kentucky.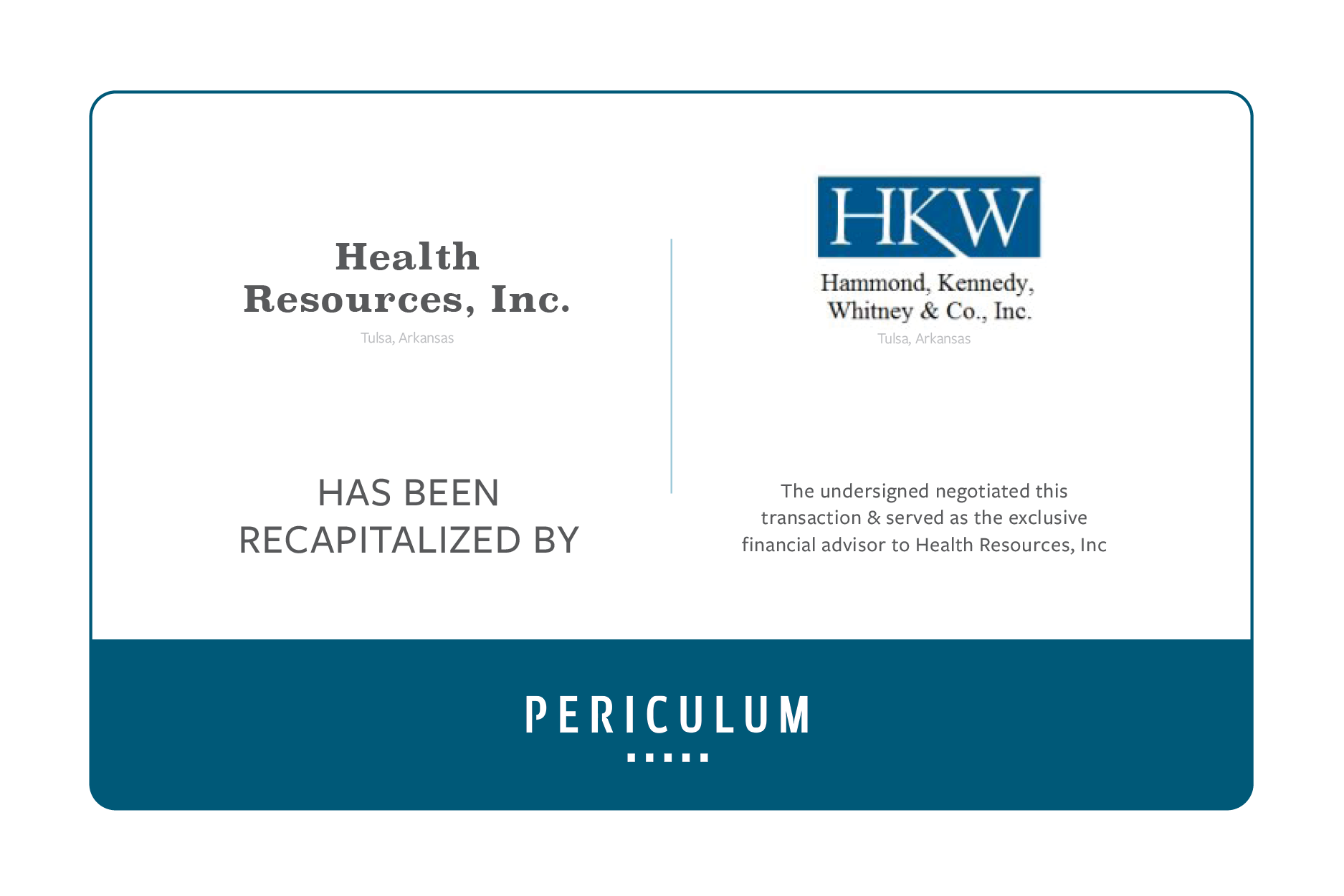 HRI's Board of Directors ("Board") decided to pursue a full sale of the Company, as many of its dentist shareholders were reaching the age of retirement and no ownership transition plan was in place. Periculum was engaged to run a focused search of potential buyers, ranging from family offices to large companies in the general insurance space that were not direct competitors. Following an exhaustive process, HRI's Board determined that the best option was to sell the Company to HKW. The transaction with HKW not only provided a good valuation to the existing shareholders, but also left the future of the Dental Health Options® brand in good hands with a partner determined to grow the Company. Dr. Allan Reid, President and Board member of HRI, reflected on the extensive process and positive outcome by saying, "When HRI decided to explore the possibility of being acquired, Periculum provided the knowledge and expertise to get it done. We were professionally guided through the complex steps of completing a sale transaction in the regulated insurance space and the final result was a great fit for our Company and employees. I highly recommend the entire staff at Periculum Capital."
HKW is a private equity firm founded in 1903 with offices in Indianapolis and New York. Since 1982, HKW has sponsored 50 platform transactions of lower middle‐market companies throughout North America, as well as 55 add‐on acquisitions.