Periculum Capital Company, LLC ("Periculum") is pleased to announce the majority sale of Hahn Systems, LLC ("Hahn" or the "Company") to Descours & Cabaud ("D&C"), a global industrial distributor headquartered in Lyon, France. Periculum acted as the exclusive financial advisor to Hahn in connection with the sale of the Company.
Hahn is a leading wholesale distributor of construction and industrial supplies, known for its innovative fastening solutions and proven dependability.  The Company has been in business since 1938 and is headquartered in Indianapolis, Indiana with several other branch locations throughout the Midwest.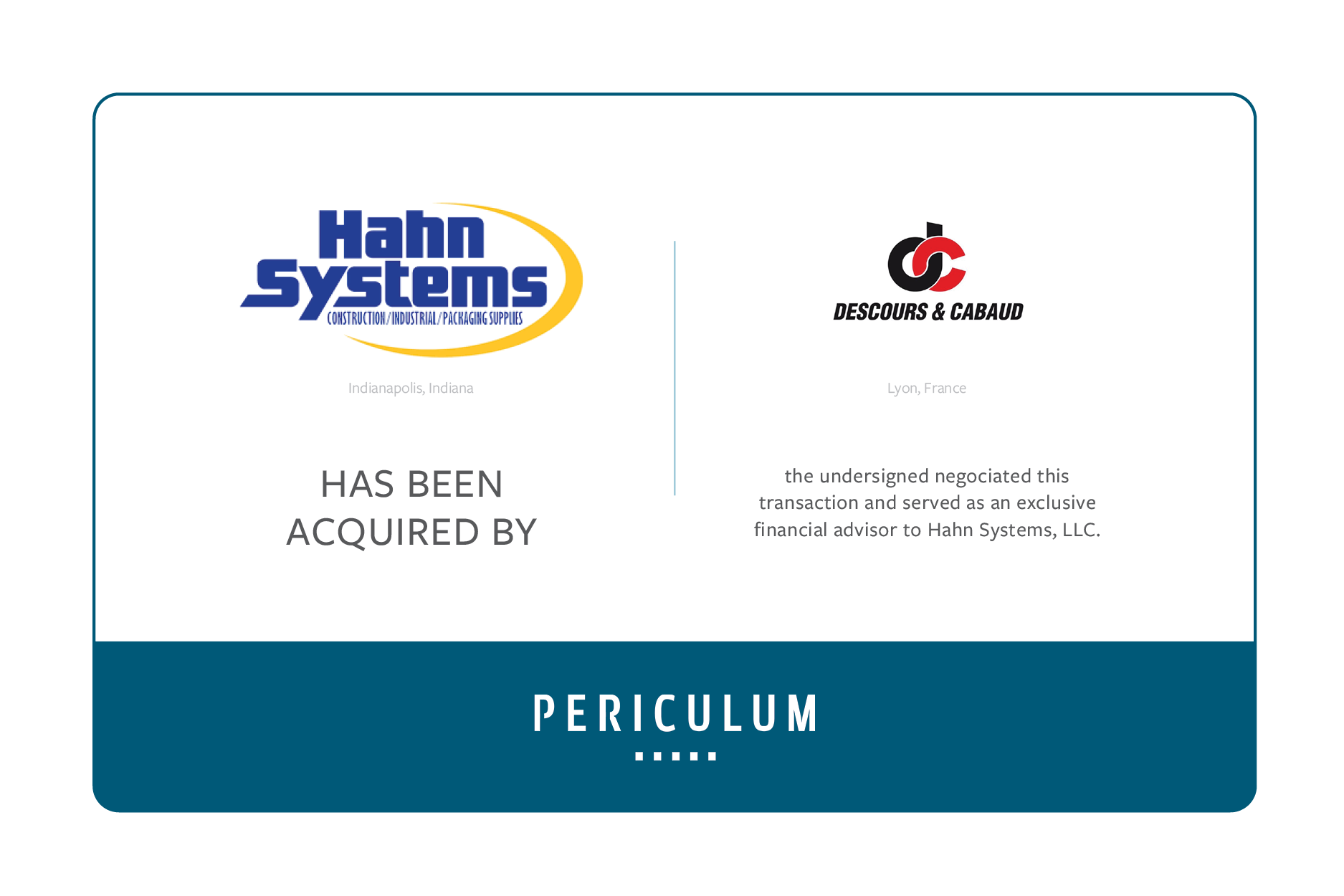 Periculum was engaged to locate a buyer that would not only meet valuation expectations, but also provide the knowledge and resources to continue to grow the business.  There were obvious active consolidators in the industrial distribution space, but Periculum, through its proprietary search process, was able to locate a unique international buyer that allowed the owner to achieve his goals. As an investment bank dedicated to creative solutions, Periculum continues to find unconventional buyers that other investment banks touting industry expertise often overlook.
Following a comprehensive process, Hahn's President and sole owner, Scott Brown, determined that the best option was to sell the Company to D&C.  He reflected on the positive outcome by saying, "Periculum understood that while valuation was clearly important, of equal concern was finding a partner that took a long-term view of the company and one that was committed to retaining Hahn's talented workforce. Periculum did an outstanding job of meeting those diverse goals."
D&C is a privately-owned business established in 1782 with headquarters in Lyon, France.  With 3.0 billion € in revenues in 2015 and more than 12,500 employees in 14 countries, D&C is a leading global distributor of industrial products.