Periculum Capital Corporation, LLC ("Periculum") is pleased to announce that it recently served as the exclusive financial advisor for a sale of 16 Buffalo Wild Wings® ( "BWW") restaurants owned by a franchisee group (the "Franchisee Group") led by Mr. Peter Watson and located in Central Indiana. This sale represents the first major liquidity event for a franchisee in the BWW system. The business was acquired by Consolidated Wings Investment, LLC, an entity formed by Dan Holland, the former President of Papa John's Pizza, and Bill Ogden, the founder and Managing Director of Granite Capital Partners, LLC.
The Franchisee Group was founded by Mr. Watson in 1996 with the opening of a BWW restaurant in Lafayette, Indiana. Over the subsequent 15 years, Mr. Watson systematically grew the Company, expanding from one location to 16 locations in the Central Indiana area, achieving in excess of $36 million in annual revenue. Throughout the last 15 years, the Franchisee Group has been a leader in the BWW system. Mr. Watson and his partners have been successful in sourcing strong locations and efficiently operating the individual restaurants.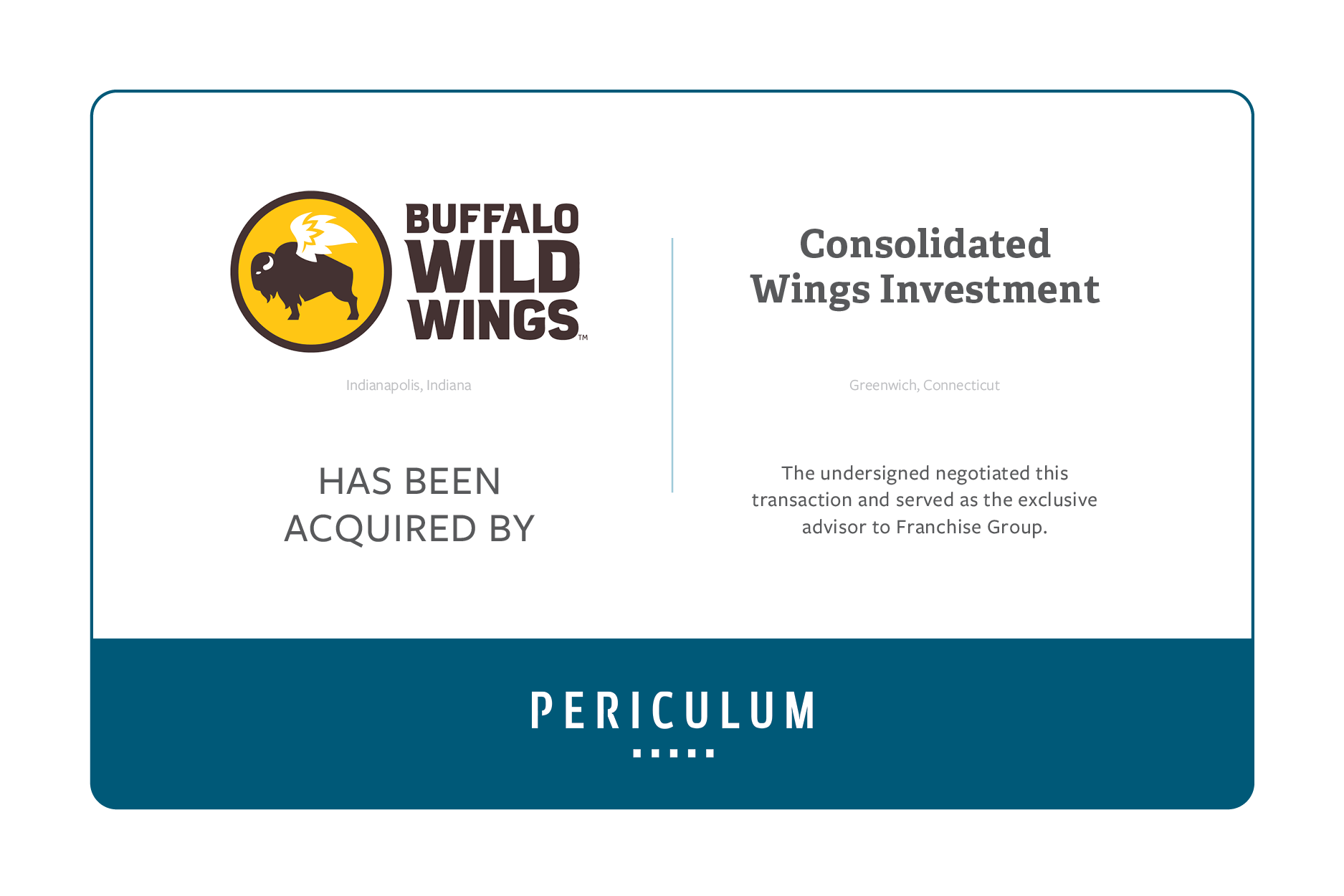 Buffalo Wild Wings, Inc., founded in 1982 and headquartered in Minneapolis, Minnesota, is a growing owner, operator and franchisor of Buffalo Wild Wings Grill & Bar™ restaurants featuring a variety of boldly-flavored, made-to-order menu items including its namesake Buffalo, New York-style chicken wings. The Buffalo Wild Wings' menu specializes in eighteen mouth-watering signature sauces and seasonings with flavor sensations ranging from Sweet BBQ™ to Blazin'®. Guests enjoy a welcoming neighborhood atmosphere that includes an extensive multi-media system for watching their favorite sporting events. Buffalo Wild Wings is the recipient of hundreds of "Best Wings" and "Best Sports Bar" awards from across the country. There are currently over 780 Buffalo Wild Wings locations across 45 states in the United Sates, as well as in Canada.
During the sale process Periculum canvassed the market, contacting well over 100 potential financial and strategic parties, ensuring the Franchisee Group obtained the best terms and ultimate value. As part of the process, Periculum helped the Franchisee Group work with BWW to ensure the proper approvals were received in preparation for a successful sale.
The Franchisee Group transaction demonstrates Periculum's commitment to obtaining the best terms and value for every client, as well as providing the best service throughout the process, whether through the firm's M&A, debt placement or merchant banking practices.