Periculum Capital Company, LLC ("Periculum") is pleased to announce that Paradise 4 Paws, LLC ("P4P" or the "Company") has received an investment from National Veterinary Associates, Inc. ("NVA"). Periculum acted as the exclusive financial advisor to P4P, leveraging its extensive experience in the pet industry to execute a successful transaction in the rapidly evolving pet care services segment.
Headquartered in Chicago, Illinois, P4P is a leading pet care services provider, offering boarding, daycare, grooming, and training across 13 nationwide locations. The Company operates a unique "hub-and-spoke" business model, with anchor Paradise 4 Paws "resort" locations at major U.S. airports complemented by urban Pooch "hotel" and "club" locations serving the surrounding metropolitan area. As a result, the Company effectively maximizes market penetration by capturing both the traveling-related overnight boarding and daily daycare demand of discerning pet parents. With its significant brand recognition and extensive experience opening new airport locations, P4P is well-positioned to establish itself as the leading comprehensive pet care services provider in a highly fragmented industry.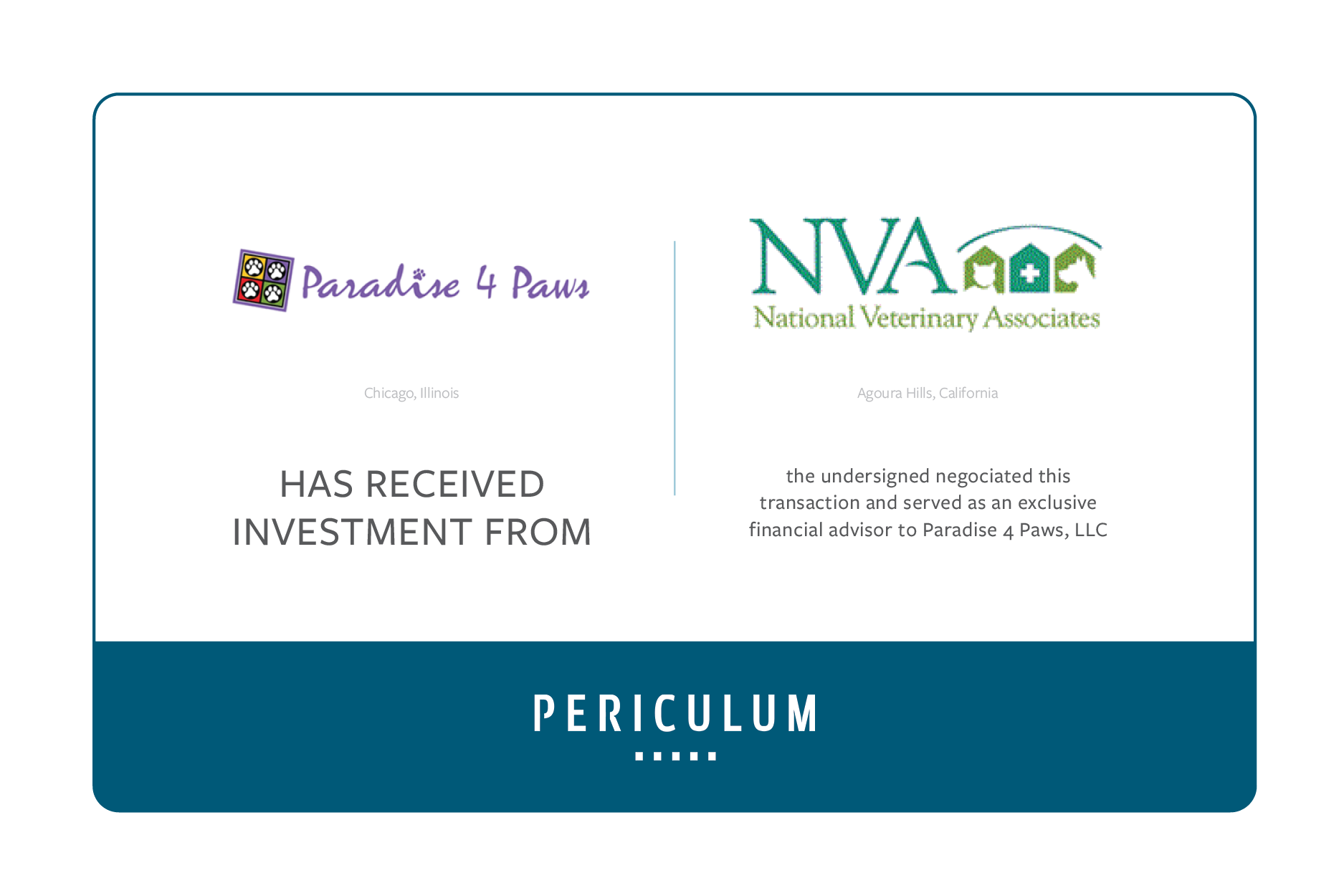 Founded in 2008, P4P had historically relied primarily on family and friends of the management team to fund its growth. Following its recent acquisition of the Pooch Hotel platform from Petco, the Company was seeking growth capital to solidify its position and continue to expand its footprint. Given Periculum's prior success executing deals in the pet space, P4P engaged Periculum to explore various strategic alternatives available to the Company. After running a customized process targeting select strategic companies and private equity firms with industry expertise, management determined that NVA was the ideal partner to support the growth of the existing platform and accelerate P4P's future development.
P4P's founder and CEO Saq Nadeem reflected on the positive outcome stating, "Periculum was instrumental in crafting a unique transaction structure that not only met our capital needs but also aligned P4P and NVA for a successful long-term relationship."