Periculum Capital Company, LLC ("Periculum") is pleased to announce the sale of Dickinson Fleet Services, LLC ("Dickinson" or the "Company"), to Ridgemont Equity Partners ("Ridgemont"). Periculum served as the exclusive financial advisor to Dickinson regarding the sale of the Company.
Based in Indianapolis, Indiana, Dickinson is the industry-leader in the provision of preventative maintenance and repair services for vehicle fleet owners and operators throughout the United States. As the largest independent fleet maintenance company in the country, Dickinson provides mobile maintenance and repairs leveraging both its network of mobile technicians and in-shop maintenance at its 15 branch facilities.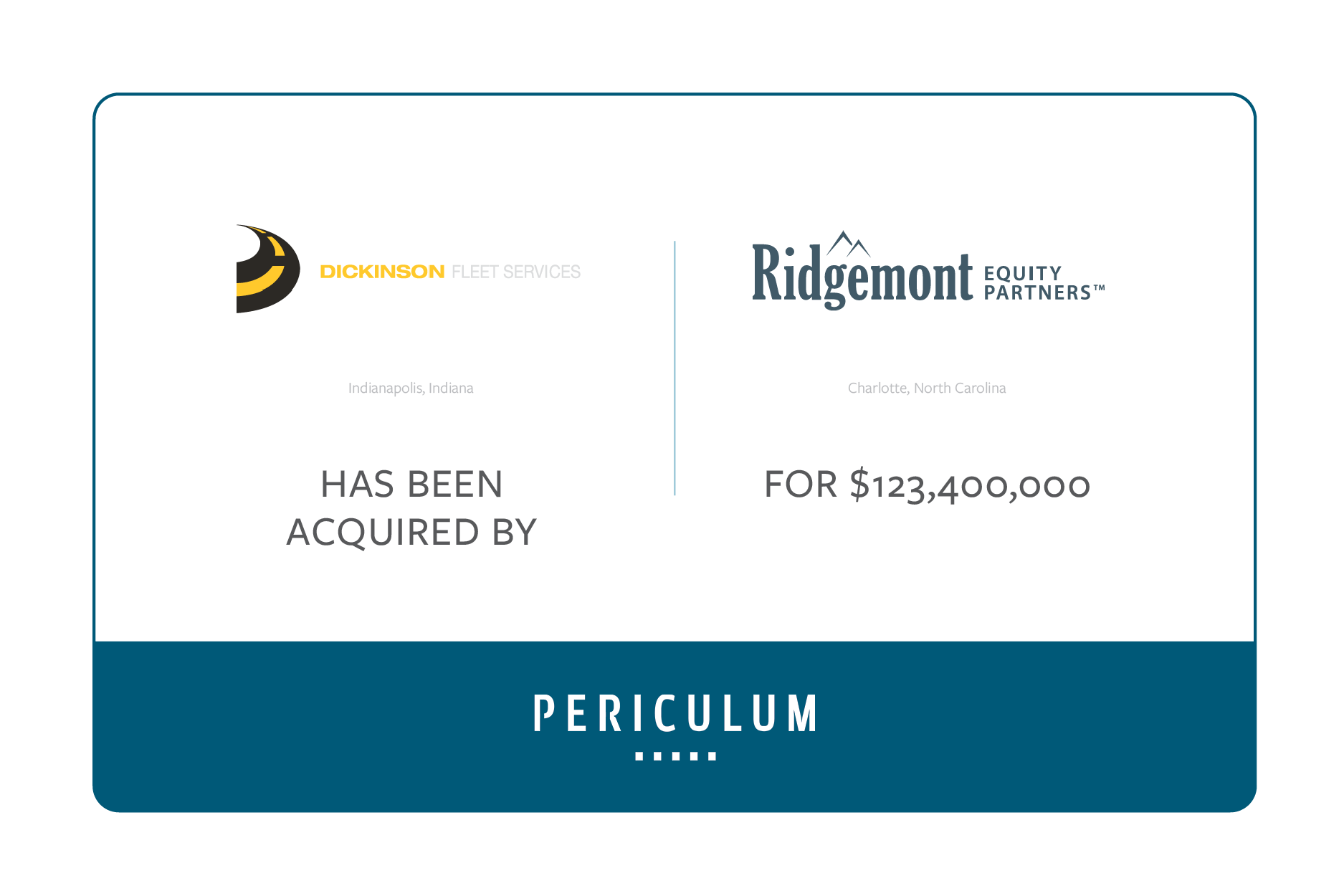 The Company's ownership situation was unique, as two members of the ownership team sought to retire subsequent to the sale of the Company, while two others desired to remain and continue to build upon the family business. Dickinson exclusively engaged Periculum to structure a customized solution to meet the goals of all Company shareholders. Periculum executed a broad search of potential buyers including large strategic companies in the fleet management and maintenance industry, companies owning large fleets that were currently performing maintenance work in-house, and private equity firms with industry expertise. Following management meetings with several potential buyers, the Company's shareholders determined that Ridgemont was the ideal financial partner to transition the leadership of the company, supporting the remaining owners and management team as they continue to grow the business.
The founder of the Company, Bob Dickinson, said, "Our experience with Periculum was very rewarding. They helped us to exceed our valuation expectations, and identified potential buyers we couldn't have found on our own. The Periculum team was always available for advice and guidance throughout the entire process."
"We had a very positive experience working with the Periculum team throughout the Dickinson transaction process," said Jack Purcell, Partner at Ridgemont. "Dickinson and the entire vehicle repair and maintenance industry are at an inflection point with respect to the use of technology, leveraging a mobile work force and pursuing M&A opportunities. Periculum positioned their client to be successful during a critical time in the Company's history. We look forward to expanding the geographic footprint and service offering alongside the management team at Dickinson.