Periculum Capital Company, LLC ("Periculum") is pleased to announce that it has completed the placement of a five-year senior secured cash flow term loan facility for ARBOC Specialty Vehicles, LLC ("ARBOC" or "the Company"), a portfolio company of H.I.G. Capital ("H.I.G."). The facility will replace an existing financing and provide funds for a dividend to shareholders.
Periculum successfully assisted the Company in developing a new senior lending relationship and obtaining an overall financing structure that meets the needs of both the Company and H.I.G. Periculum's involvement allowed the management team to focus on running the business while H.I.G. focused on their primary fund activities.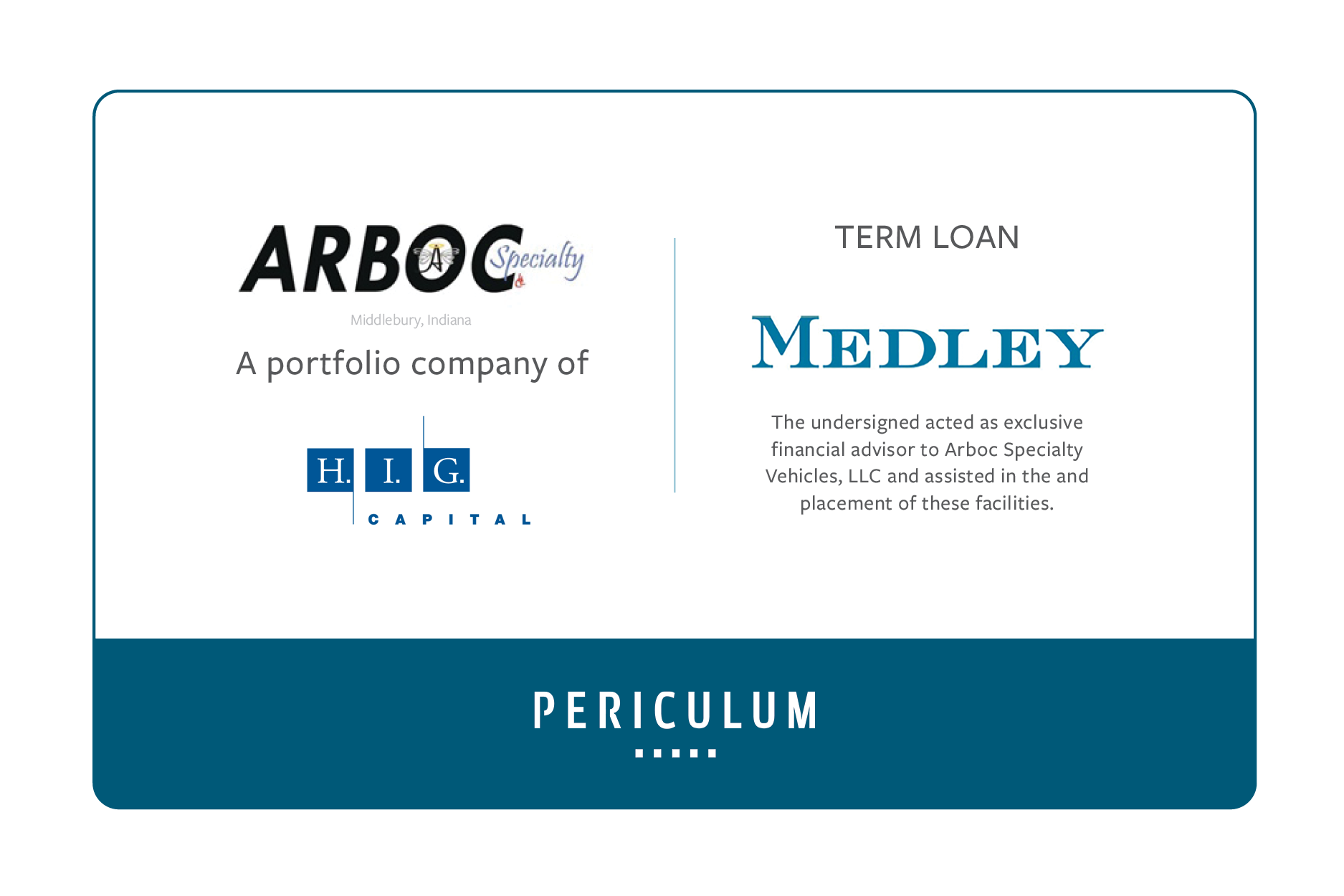 As exclusive financial advisor, Periculum's role included identifying prospective senior lenders, working with existing relationships, orchestrating management meetings and follow up, obtaining and vetting a significant number of senior debt proposals, and assisting in the closing negotiations and documentation. As a result of this process, ARBOC obtained the term loan facility from a top-tier capital provider capable of supporting the Company's long term growth initiatives.
Based in Middlebury, Indiana, ARBOC is a leading producer of specialty vehicles targeting the low-floor and mobility transportation markets throughout North America. The vehicles are designed for passenger transport both as part of public transit programs and for private operators. Through the Company's dealer network, vehicles are sold to municipal transit authorities, universities, airports, churches and many other customers demanding market leading mobility solutions.
H.I.G. is a leading global private investment firm with over $12 billion of capital under management. The H.I.G. family of funds includes private equity, growth equity, real estate, debt/credit and public equities. H.I.G. aligns itself with committed management teams and entrepreneurs to help build businesses of significant value. The team of over 250 investment professionals has substantial operating, consulting, technology and financial management experience, enabling H.I.G. to contribute meaningfully to portfolio companies. H.I.G. invests in companies throughout the U.S. and Europe and has offices in Miami, Atlanta, Boston, Chicago, Dallas, New York, and San Francisco in the U.S., and affiliate offices in London, Hamburg, Madrid and Paris in Europe as well as Rio de Janeiro in South America.
Ongoing regulatory uncertainty has led to an emergence of lending alternatives to commercial banks, providing unique challenges and opportunities to firms looking to access the debt capital markets. Periculum's highly-focused approach to the debt placement and M&A needs of family-owned, small-cap to mid-cap public, and middle market private equity owned companies provides the experience and insight necessary to navigate these evolving financing markets.