Periculum Capital Company, LLC ("Periculum") is pleased to announce the completion of a $5.0 million private placement of Series A Preferred Units for SteadyServ Technologies, LLC ("SteadyServ" or "Company"). This transaction follows the completion of a $1.5 million private placement of 6.0% convertible promissory notes completed for the Company by Periculum in March of 2013.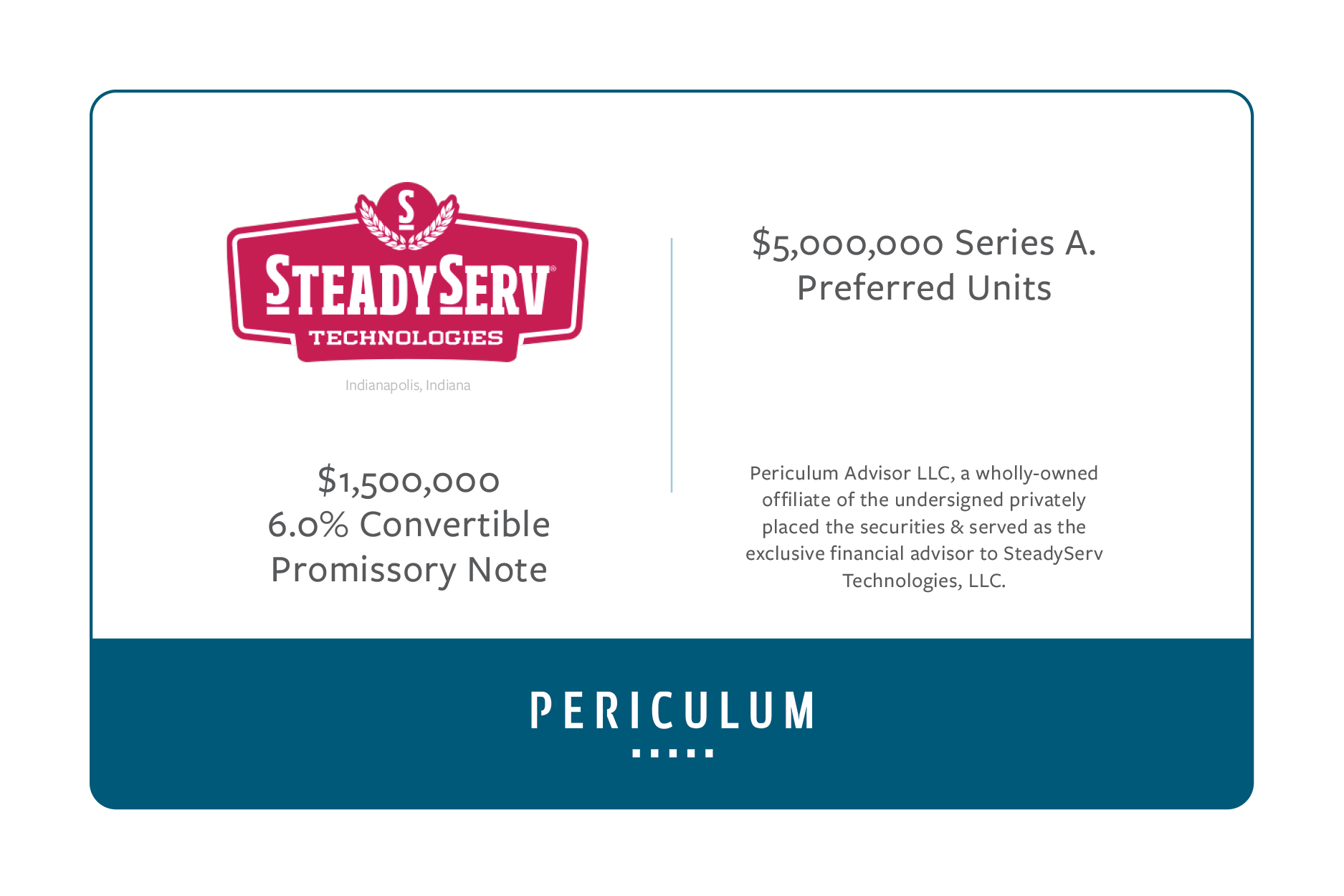 SteadyServ has developed a mobile, SaaS-based inventory and order management system for the beer industry called iKeg™. iKeg is an integrated hardware and software solution designed to measure and report, on a near-real-time basis and with a high degree of accuracy, the inventory of draft beer kegs as well as the volume of beer remaining in those kegs at restaurants, bars, and taverns. The iKeg system tracks the depletion of beer over a measured period of time and notifies both the beer distributor and the on-premise retailer as to the current volume level associated with each style of beer being tracked. In addition to reporting which kegs are in danger of running out of beer and approximately when this might occur, the iKeg system also provides a convenient mechanism for the on-premise retailer to place replenishment orders with its distributor before a keg runs out of beer. The Company has filed a non-provisional patent application on the unique aspects of its solution.
Headquartered in Carmel, Indiana, SteadyServ was founded in 2012 by Steve Hershberger, an experienced software and technology entrepreneur. Steve has assembled a strong team with extensive experience in software design and engineering, craft brewery marketing and operations, hardware engineering and manufacturing, mobile technology, finance, and business operations. Periculum worked closely with the founding shareholders from the inception of the business to review and validatethe market opportunity and to assist with the numerous product development, intellectual property, and strategic issues prior to and during both rounds of funding.