Periculum Capital Company, LLC ("Periculum") is pleased to announce that it has completed the placement of $32 million of senior debt for Auction Broadcasting Company, LLC ("ABC" or the "Company"). The placement allowed the Company to refinance its existing debt and fund future growth. Periculum acted as the exclusive financial advisor to ABC in connection with the transaction and completed the senior placement in 30 days.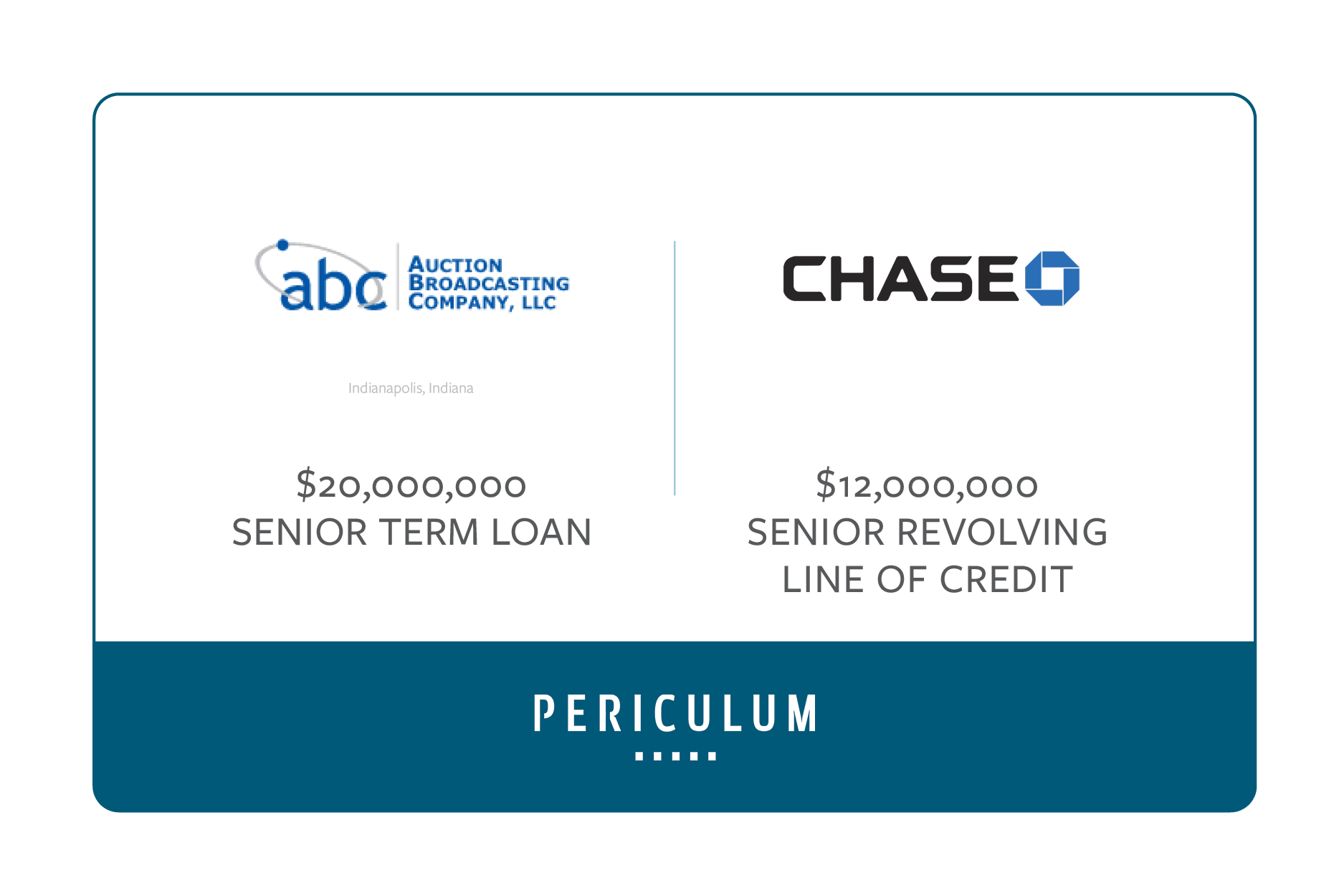 As exclusive financial advisor, Periculum's role included running a broad process to obtain and review multiple lender proposals that included both traditional commercial banks as well as non-bank business development company lenders in order to obtain terms suitable to the Company's needs. Periculum's advisory role also included arranging management meetings and assisting in closing negotiations and documentation. The Company decided to engage Periculum to run the process given Periculum's extensive lender relationships and experience in the debt capital markets. As a result of Periculum's efforts, ABC was able to obtain a term loan and revolving line of credit from Chase's Commercial Banking unit, a top-tier capital provider capable of supporting the Company's long-term growth initiatives.
ABC was founded in 1999 by a seasoned team of auto auction executives and is a leader in the automotive remarketing services industry with seven auto auctions located throughout the Midwest and Eastern United States. The Company's unique combination of experience, teamwork, and technology along with its high level of customer service and wide range of value-added services have made it the preferred partner for buyers and sellers of used vehicles.
Chase is the U.S. consumer and commercial banking business of JPMorgan Chase & Co. (NYSE: JPM), a leading global financial services firm with assets of $2.3 trillion and operations worldwide. Chase serves nearly half of America's households with a broad range of financial services, including personal banking, credit cards, mortgages, auto financing, investment advice, small business loans and payment processing. Customers can choose how and where they want to bank: 5,400 branches, 17,000 ATMs, mobile, online and by phone. For more information, go to Chase.com.