Periculum Capital Company, LLC ("Periculum") is pleased to announce that it has completed the placement of a $30,000,000 senior secured asset based revolving credit facility for Integrated Electrical Services, Inc. (Nasdaq: IESC) ("IES" or the "Company"). The revolving facility was provided by Wells Fargo Capital Finance and replaces IES's previous multi-bank financing while providing additional capacity for growth.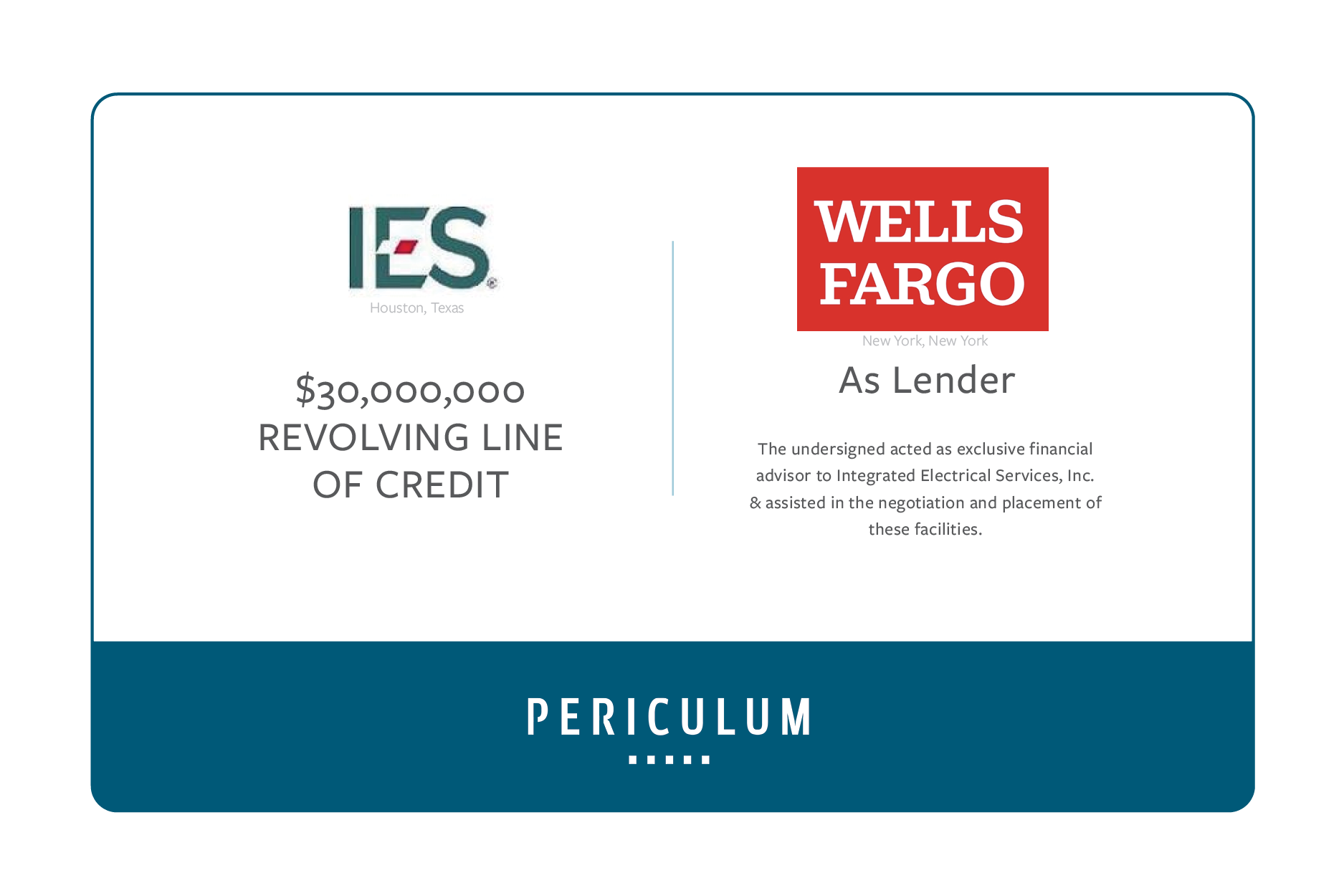 Headquartered in Houston, Texas, IES is an infrastructure services company that enjoys leading positions in a broad range of markets for electrical and communications products and services with approximately 2,300 employees in 53 locations throughout the United States. Like many companies, IES was dramatically impacted by the recent economic slowdown that started in 2008 with revenue falling from over $900 million in 2006 to just below $500 million today. As IES's management focused on the operational turnaround they engaged Periculum to assist in obtaining new debt financing in order to provide capital for growth and longer term initiatives. Periculum's involvement allowed the management team to focus on running the business while Periculum provided the necessary attention to the refinancing process. Periculum was successful in helping the Company develop a financing structure that enables IES to continue to execute its business strategy.
As exclusive financial advisor, Periculum's process included assisting with negotiations involving the prior bank group, initiating discussions with over 20 financing institutions on a national basis, arranging prospective senior bank meetings, obtaining and vetting various bank proposals, and assisting in the closing negotiations and documentation.
As a result of the process, IES obtained a 3-year revolving facility from a top-tier bank with attractive pricing and flexible terms that meets the Company's needs and supports its long term growth strategy. With Periculum's help the Company was able to keep the existing sub debt lender in place with no immediate restructuring.