Periculum Capital Company, LLC ("Periculum") is pleased to announce it has completed a senior debt placement for Morgan Foods, Inc. and its wholly owned subsidiary American Soy Products, Inc. ("Morgan" or the "Company").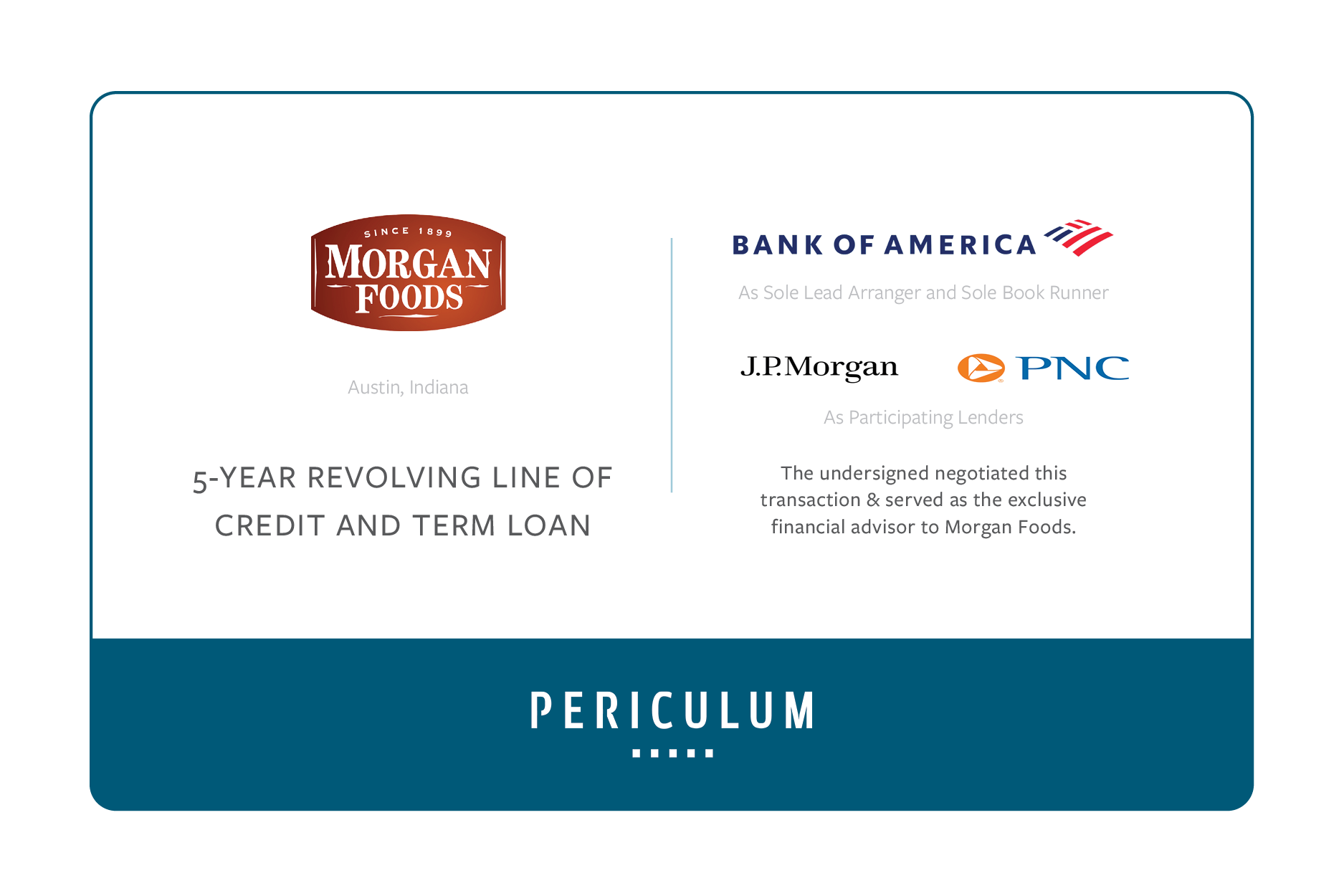 The debt placement, structured as a working capital revolver and term loan, allowed the Company to refinance its existing debt and fund future growth.
As a long-term client of Periculum's Corporate Development and Treasury Services offering, this is the second transaction Morgan has engaged Periculum to execute. Periculum also assisted Morgan with its acquisition of American Soy Products in 2018 and has worked with the Company on previous capital structure projects.
Periculum's role in this debt placement was to design and execute a customized process to solicit proposals from a targeted list of potential lenders that would accomplish the Company's current and future capital needs. As a result, Morgan was able to obtain a multi-bank revolving line of credit and term loan facility from a top tier bank group capable of supporting the Company's long-term growth initiatives. The bank group was led by Bank of America, with participation from JP Morgan Chase Bank and PNC Bank.
The Company relied on Periculum to run the process given Periculum's extensive lender relationships and experience in the debt capital markets. In addition to designing the customized debt placement solicitation process, Periculum assisted Morgan with information preparation, outreach to and ongoing communication with prospective lenders, negotiation of term sheets, documentation and the closing. Periculum also supported Morgan's finance team by helping them build a robust financial forecasting capability – this is a key differentiator of Periculum's Corporate Development and Treasury Services offering.
Steve Hankins, Chief Financial Officer of Morgan, reflected on the positive outcome saying, "The Periculum team did an excellent job of identifying potential lenders and managing the financing process. Periculum's involvement really helped us prepare and position our story to receive the best available structure and terms."
About Periculum Capital Company, LLC
Periculum is a leading investment and merchant banking firm serving the corporate finance needs of middle market companies. The firm was founded in 1998 to provide sophisticated financial advisory and transaction services. Periculum is committed to achieving superior outcomes for its clients by delivering customized investment banking services that maximize value while still meeting clients' individual goals and objectives. The firm's primary services include M&A, capital markets, and restructuring advisory, as well as specialized merchant banking services.