Periculum Capital Company, LLC ("Periculum") is pleased to announce the sale of Culy Construction & Excavating, Inc. ("Culy" or the "Company") to PowerTeam Services, LLC ("PowerTeam") a portfolio company of Kelso & Company ("Kelso"). Periculum acted as the exclusive financial advisor to Culy in connection with the sale of the Company.
Culy, founded in 1978, is a full-service, value-added civil construction, excavation, and maintenance specialist for power and gas transmission and distribution projects. The Company has built a strong reputation in its industry for its underground safety, comprehensive civil construction services, and problem solving. The Company has grown significantly since its inception due to its continuous innovation and ability to provide end-to-end services for all civil work.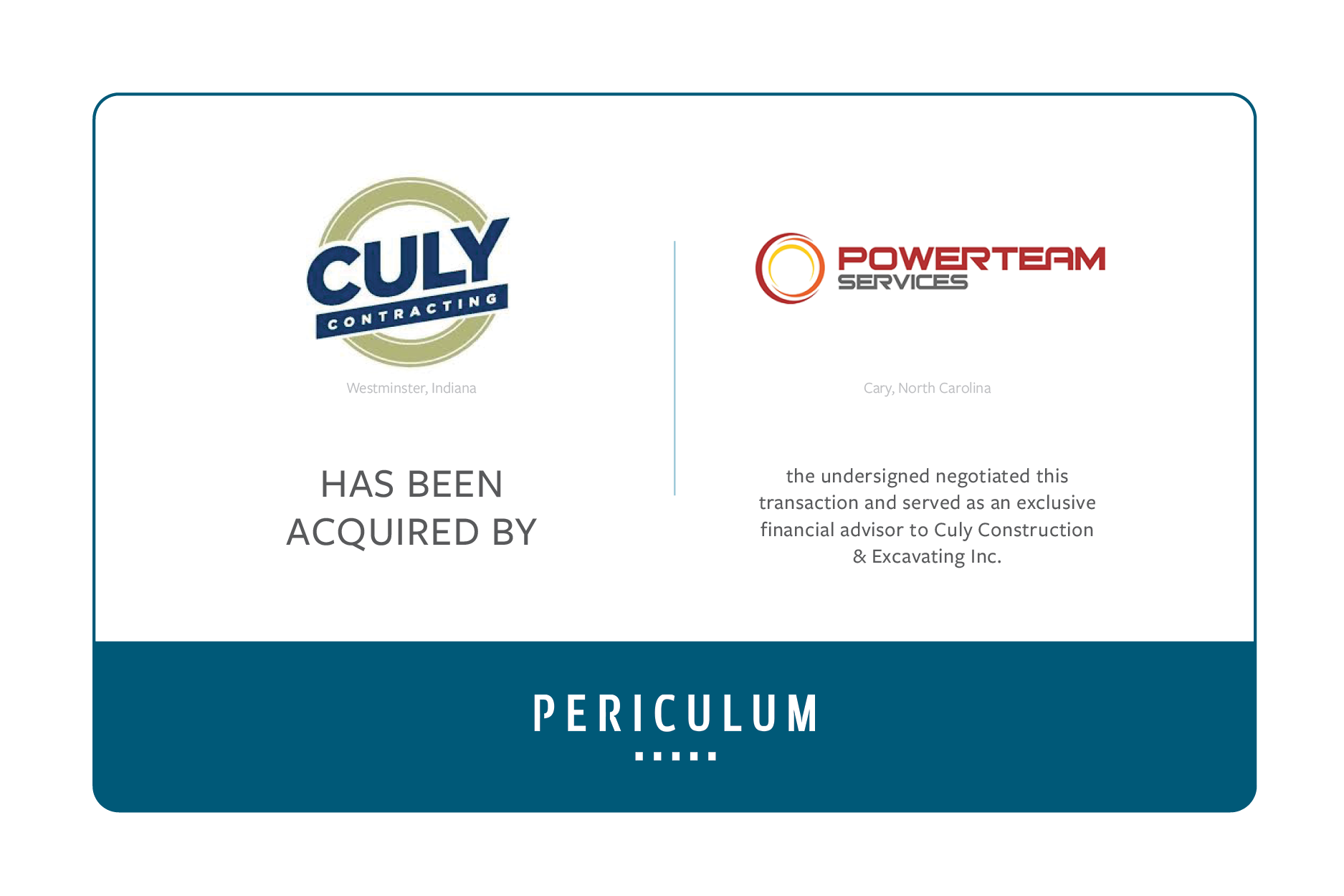 Periculum conducted an extensive and customized search of potential investors, ranging from private equity firms to large strategic companies in the construction and excavation industries. Culy's shareholders determined the best option was to partner with PowerTeam because of its excellent reputation in above-ground power construction. Together, the companies provide a true turnkey option to their collective customer base. The transaction not only provided superior value to the shareholders, but also provided the management team with a strong partner to leverage its expertise in the power and gas industries to achieve future growth. Ron Culy, the founder and CEO of the Company, echoed this sentiment by saying, "I really don't know what more we could have asked for. In the end, we found the right fit as well as the best terms, conditions and sale price going forward. Periculum was instrumental in helping us get through this process."
PowerTeam was incorporated in 2012 and is based in Cary, North Carolina. It provides construction, installation, and maintenance services to natural gas and electric utilities in the United States. Additionally, it offers specialty services including pipeline integrity management, facility modification, horizontal directional drilling, and CCTV (sewer camera inspection). As of December 2012, PowerTeam operates as a portfolio company of Kelso.
Kelso is a leading middle market private equity firm founded in 1971 and based in New York, New York. It has completed over 110 investments with a focus in the energy, healthcare, and financial services sectors. Kelso leverages its expertise in these sectors to provide unique insight and to add significant value post-investment.