Periculum Capital Company, LLC ("Periculum") is pleased to announce the strategic investment in Realync Corp. ("Realync" or the "Company") by Susquehanna Growth Equity ("Susquehanna"). Periculum acted as the exclusive financial advisor to Realync.
Based in Indianapolis and Chicago, Realync is the industry standard for multifamily real estate virtual marketing, leasing, and engagement solutions, providing a robust platform for harnessing rich media content that facilitates a more immersive end-to-end resident experience. The Company's B2B SaaS solutions have been widely adopted by leading property management companies who rely on Realync to accelerate sales cycles, increase lead-to-lease conversion rates, and facilitate site-unseen leasing in a modern virtual environment. The Company's cloud-based video platform empowers real estate professionals to virtually connect with their customers to improve the customer experience, garner unique insights, and transact more efficiently.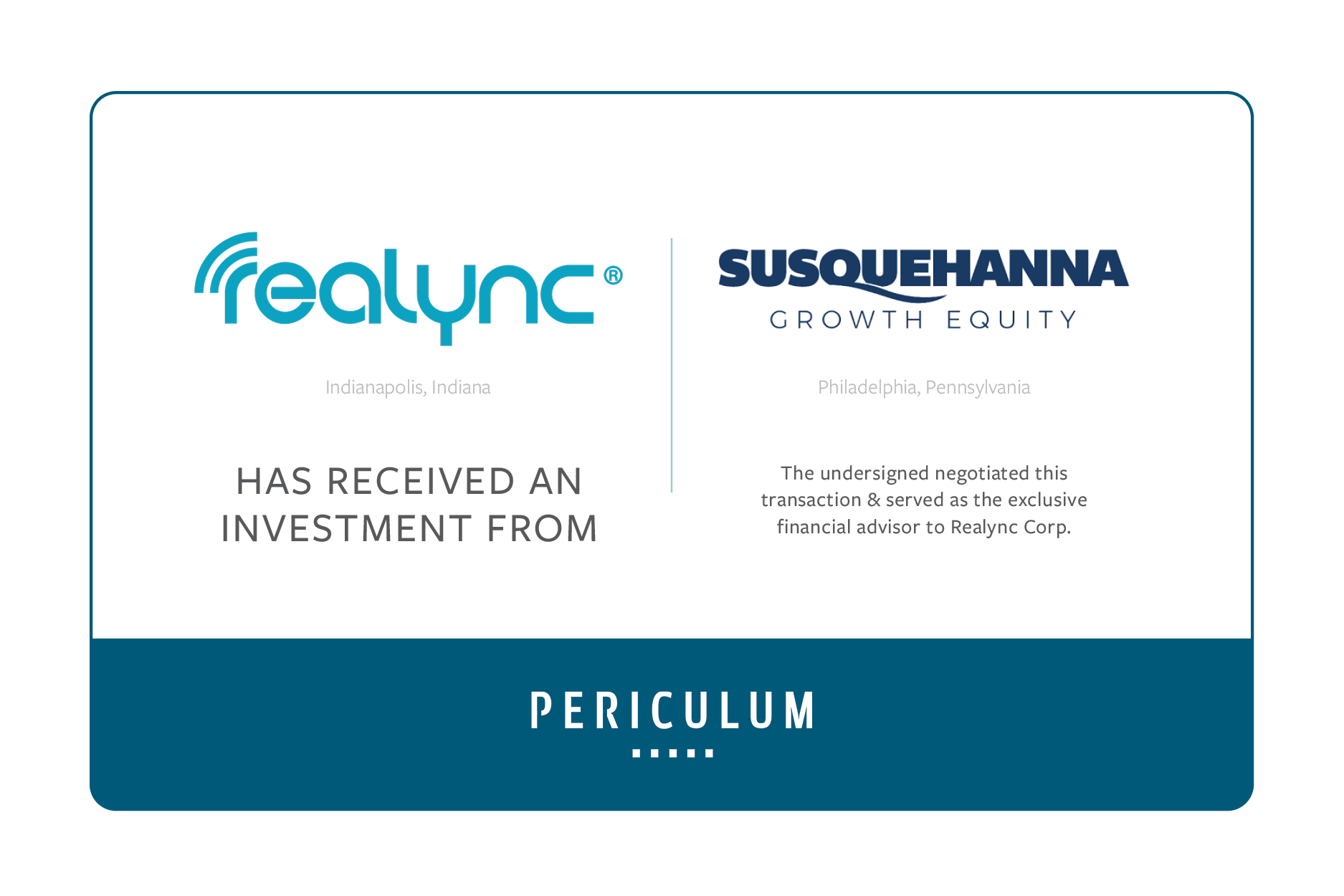 Virtualization of labor-intensive in-person transactions has rapidly gained acceptance across industries over the last five years. The onset of the COVID-19 pandemic served as an unprecedented accelerant, pushing laggard markets five to ten years into their technology future. Realync has long been on the forefront of this trend and served as an essential partner as large multifamily clients moved their operations, across both leasing and management, into a virtualized, cloud-based environment. Partnering with Susquehanna allows Realync to accelerate its delivery of virtual leasing and engagement technologies within the multifamily industry, delivering a wholistic engagement solution that covers the entire customer lifecycle.
In May of this year, Realync engaged Periculum to pursue a partner that would support the Company's substantial growth, while allowing management to continue to execute their long-term vision. Through targeted outreach to existing Periculum relationships, Susquehanna emerged as the ideal candidate to partner with for the Company's next stage of growth.
This deal marks Periculum's third closed deal, and second software transaction, in the last sixty days. The firm continues to build on its software and technology expertise, providing capital markets and liquidity solutions for venture and non-venture backed emerging growth and later-stage companies. Whether it is a growth-focused recapitalization or a returns-acceleration event for venture capital investors, Periculum's tailored solutions provide the flexibility to ensure all stakeholders are positioned for long-term success.
About Periculum Capital Company, LLC
Periculum is a leading investment banking firm serving the corporate finance needs of emerging growth and middle market companies. Periculum is committed to achieving superior outcomes for its clients by delivering customized investment banking services that maximize value while still meeting clients' individual goals and objectives. The firm's primary services include mergers and acquisitions, capital markets and restructuring advisory, and specialized merchant banking services.