Periculum Capital Company, LLC ("Periculum") is pleased to announce it has advised Select Home Health Services, Inc. ("SHHS" "Company"), a leading home healthcare service provider, in its sale to Fortis Home Health and Hospice, LLC ("Fortis"), a portfolio company of Grant Avenue Capital, LLC ("Grant Avenue").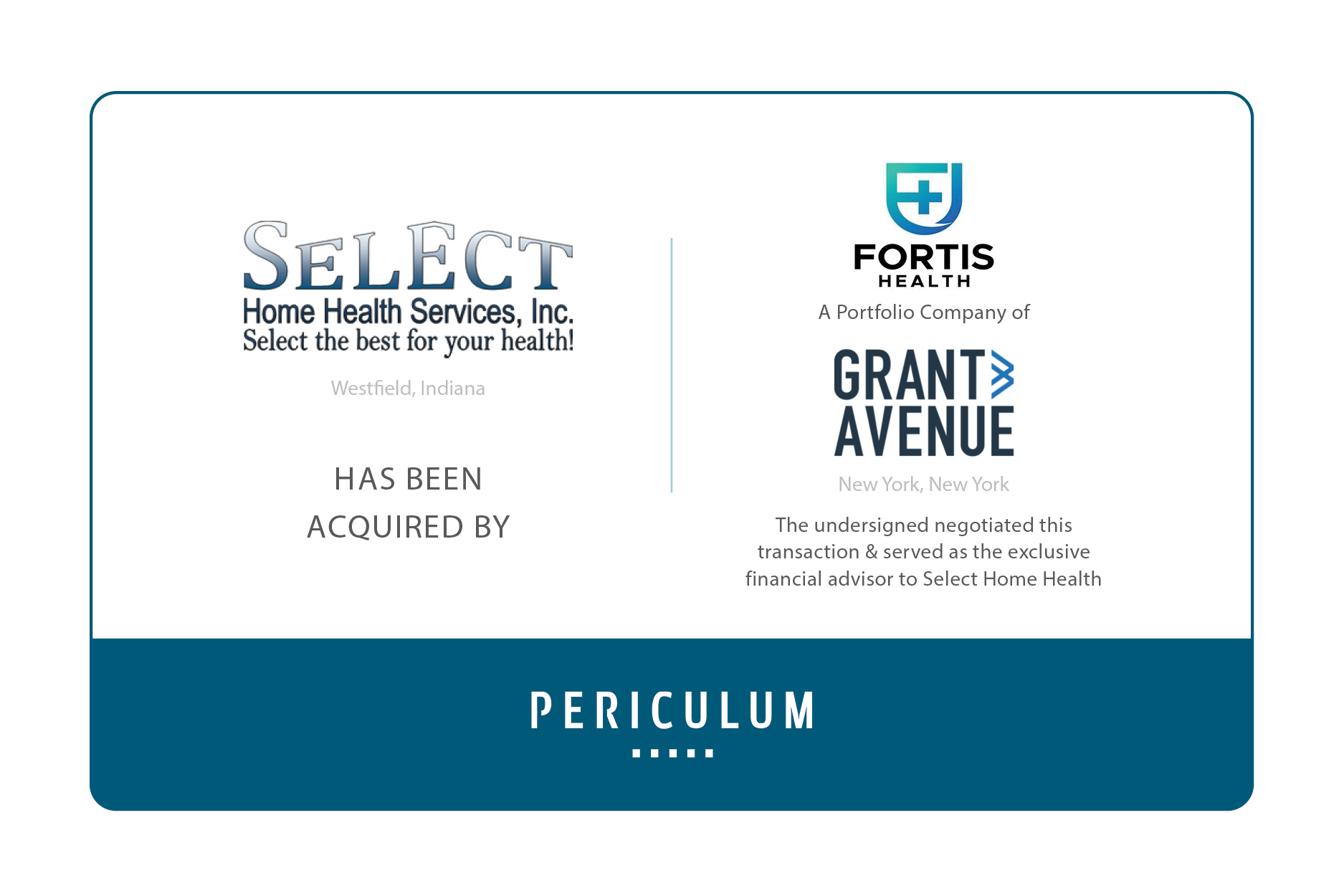 Periculum helped SHHS find an ideal financial partner within an expedited timeline while exceeding stakeholders' transaction expectations.
SHHS is a market-leading home healthcare service provider that was experiencing significant growth, in-part because of post-pandemic increases in demand for home-based healthcare. SHHS ownership engaged Periculum to find a financial partner with deep expertise in home-based healthcare investing who was pursuing a national buy and build strategy in which SHHS could become a regional platform. Ownership desired liquidity but wanted to continue to be significant owners of a larger platform for growth.
SHHS has been experiencing dramatic growth due to strong increases in demand for home-based healthcare services driven by aging demographics and post-pandemic preference changes from the elderly and their families. Select needed to find a financial partner that had a national platform SHHS could become part of to realize the opportunities with which SHHS was being presented. SHHS engaged Periculum to run a targeted process to find such a partner.
SHHS had spent the prior two years enabling its operations with the best technology tools, so Periculum positioned the company as a technology-enabled regional home-based care platform and contacted a large set of private equity and strategic buyers with a focus on this type of opportunity. SHHS gained traction with several ideal buyers early in the process, so Periculum accelerated narrowing the buyer pool very quickly. SHHS selected Fortis and Grant Avenue by signing a letter of intent only forty-one days after Periculum began reaching out to potential buyers. Grant Avenue then moved equally as fast to complete due diligence and closed the deal just forty-nine days later, exactly on the schedule and at the value they outlined when the LOI was executed.
"Two of the SHHS owners, Tim Leonard and Michael Shide, shared how important it was to them to get a transaction closed before the end of 2021 even though we did not begin calling potential buyers until August 19th of 2021. When we recognized the significant amount of interest the market had in SHHS, we suggested a unique approach to Tim and Michael that had some risk but might enable us to get a deal done more quickly without sacrificing the quality of our financial partner or the valuation of the Company," said Sean Frazer, Managing Director with Periculum Capital Company. "The SHHS and the Grant Avenue teams worked around the clock for forty-nine days to get the deal done – we couldn't have asked for better clients or a better buyer."
"The founding members of our company did not take the decision lightly when seeking a firm to oversee our transaction process. From beginning to end Periculum focused on our goals and provided a highly professional and effective service," said Tim Leonard, Co-Founder and President of SHHS. Michael Shide, Co-Founder and Vice President added, "Periculum listened to our objectives, were knowledgeable of our industry, and were strategic and calculated with their processes."
"The leadership team of Select Home Health is well known in the Midwest market for providing exceptional care to individuals and their families. We plan to accelerate the expansion of Select and our broader home-based care platform, Fortis Home Health and Hospice, through continued investment in the clinical and leadership teams combined with strategic acquisitions, partnerships and de novo launches," said Buddy Gumina, founder and managing partner of Grant Avenue Capital. "Periculum's high-touch approach with consistent, senior-level attention was critical in making the recapitalization process with the Select founders smooth and effective. Simply put, the Periculum team was absolutely outstanding."
About Periculum Capital Company, LLC
Periculum is a leading investment and merchant banking firm serving the corporate finance needs of middle market companies. The firm was founded in 1998 to provide sophisticated financial advisory and transaction services. Periculum is committed to achieving superior outcomes for its clients by delivering customized investment banking services that maximize value while still meeting clients' individual goals and objectives. The firm's primary services include M&A, capital markets, and restructuring advisory, as well as specialized merchant banking services.