Periculum Capital Company, LLC ("Periculum") is pleased to announce it has advised Revelant Technologies ("Revelent" "Company"), a leading Mulesoft implementation and integration partner, in its recapitalization and growth equity investment by Inoca Capital Partners, LLC.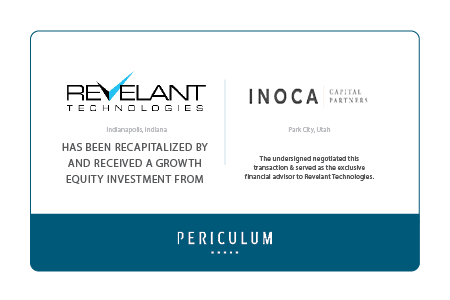 Based in Indianapolis, Revelant Technologies is a leading Mulesoft implementation and integration partner, serving government, commercial and non-profit clients. Revelant's architects and consultants are experts in complex, multi-system integrations of legacy and new systems using custom-built software as well as Mulesoft. Mulesoft is the world's leading integration platform for Service Oriented Architecture, Software as a Service and Application Programming Interfaces.
With Mulesoft's acquisition by Salesforce, the Revelant ownership team recognized a large opportunity to grow its Mulesoft business and realized that they needed capital to fund growth while at the same time they wanted to diversify their personal holdings in the Company. They engaged Periculum to pursue a financial partner that could bring the financial resources to the table in addition to the expertise and experience to help them scale and grow the Company to capture the Mulesoft opportunity. They also wanted to pursue putting in place a succession plan for their roles on the team.
"The Periculum team helped us navigate the uncertainty of the market during the pandemic and arrive at a partnership with Inoca Capital Partners. Inoca was the perfect partner because they had relevant experience having recently helped scale and sell a similar company," said Bob Braun, one of the three owners of Revelant. "Periculum listened to our goals for succession planning and growth and provided valuable guidance throughout our process."
This deal marks Periculum's third technology transaction since the fourth quarter of 2020. The firm continues to build on its software and technology expertise, providing capital markets and liquidity solutions for venture and non-venture backed emerging growth and later-stage companies. Whether it is a growth-focused recapitalization or a returns-acceleration event for venture capital investors, Periculum's tailored solutions provide the flexibility to ensure all stakeholders are positioned for long-term success.
About Periculum Capital Company, LLC
Periculum is a leading investment and merchant banking firm serving the corporate finance needs of middle market companies. The firm was founded in 1998 to provide sophisticated financial advisory and transaction services. Periculum is committed to achieving superior outcomes for its clients by delivering customized investment banking services that maximize value while still meeting clients' individual goals and objectives. The firm's primary services include M&A, capital markets, and restructuring advisory, as well as specialized merchant banking services.