Periculum Capital Company, LLC ("Periculum") is pleased to announce the acquisition of American Soy Products, Inc. ("ASP") by Morgan Foods, Inc. ("Morgan" or the "Company"). Periculum acted as the exclusive advisor to Morgan, assisting with both the sourcing and negotiation of the transaction and with the structuring and placement of the financing.
Founded in 1899 and based in Austin, Indiana, Morgan is the leading private label canned soup and bean manufacturer in the U.S. Today, the Company produces over 400 different formulations across almost 2,000 SKUs.
As Morgan continues to diversify and grow its business, the Company made the strategic decision to expand its product selection by offering aseptic packaged products. Aseptic processing is the highly specialized process of packaging sterile food products in a sterile container, preventing microorganisms and bacteria from entering the package. This process keeps the sealed products safe and shelf stable for up to 18 months without the need for refrigeration. Aseptic is one of the fastest growing segments in the consumer packaged food industry.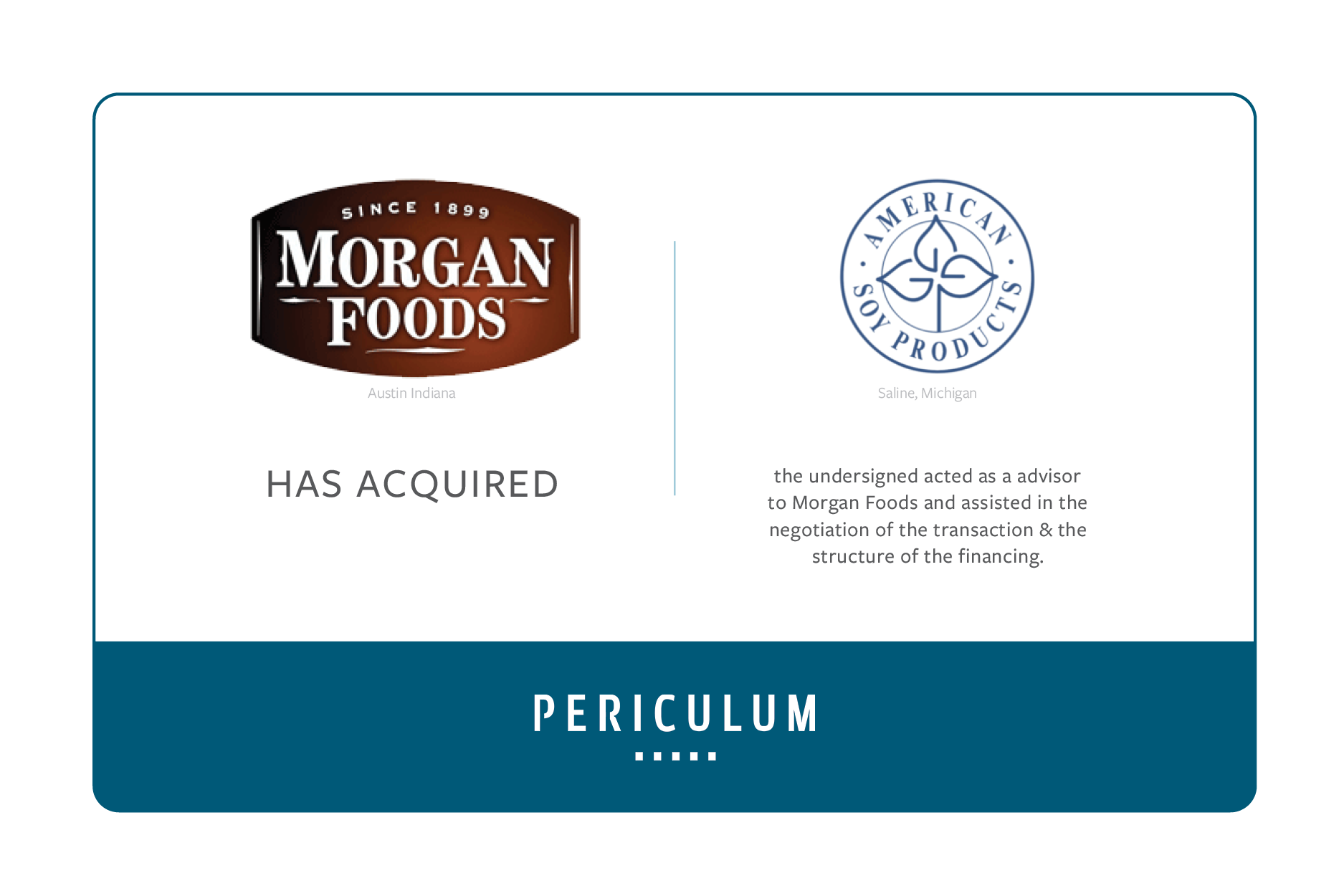 Morgan engaged Periculum after evaluating a build-versus-buy strategy and deciding that the most effective way to enter this rapidly growing segment was to acquire a company that had existing aseptic packaging capabilities. Periculum ran a focused search for aseptic packaging companies in North America. During the process, Periculum identified and contacted over 30 potential targets. After conversations with several targets, ASP was identified as the best fit and was open to pursuing a transaction with Morgan. Periculum prepared the valuation, gathered the necessary information for Morgan to make the operational decision, and assisted in the preparation of the IOI and LOI. During the closing process, Periculum helped with problem solving and simultaneously ran a financing process to fund the acquisition and working capital needs for Morgan. The successful outcome allows Morgan to not only offer new packaging options, but also offer new products to its existing customer base.
Louis Gottsponer, President of Morgan, reflected on the positive outcome saying, "The Periculum team did an excellent job of identifying potential targets and managing both the acquisition and financing process. This outcome would have been much more difficult without their expertise and experience."