Periculum Capital Company, LLC ("Periculum") is pleased to announce that it acted as the exclusive financial advisor to JBS United, Inc. (the "Company") in the sale of its western Illinois grain business ("JBS United Grain West") to Bunge-SCF Grain, LLC ("Bunge-SCF").
JBS United's core business is the research, development, and production of animal nutrition solutions, which has no direct connection to the grain origination and storage business. Given that, and the Company's desire to significantly grow in the nutrition segment, JBS United decided to divest its grain business to free up management's time and reallocate funds to additional nutrition research and development.
JBS United selected Periculum to lead the sale engagement because of the firm's focus, extensive experience, and contacts in the food and agricultural markets. Periculum ran a formal process, focused on both domestic and international strategic buyers seeking entrance or expansion in western Illinois. Following an extensive review, the Company determined that the best candidate to acquire its western Illinois grain operations was Bunge-SCF. Steve Biddle, Vice President of the Grain Group, added, "Through Periculum's experience, connections, and process we were able to attract buyers with significant strategic interest in our grain assets – both people and facilities. Each deal presents its own unique challenges, but through those challenges, Periculum delivered an outcome that would have been unattainable without their expertise."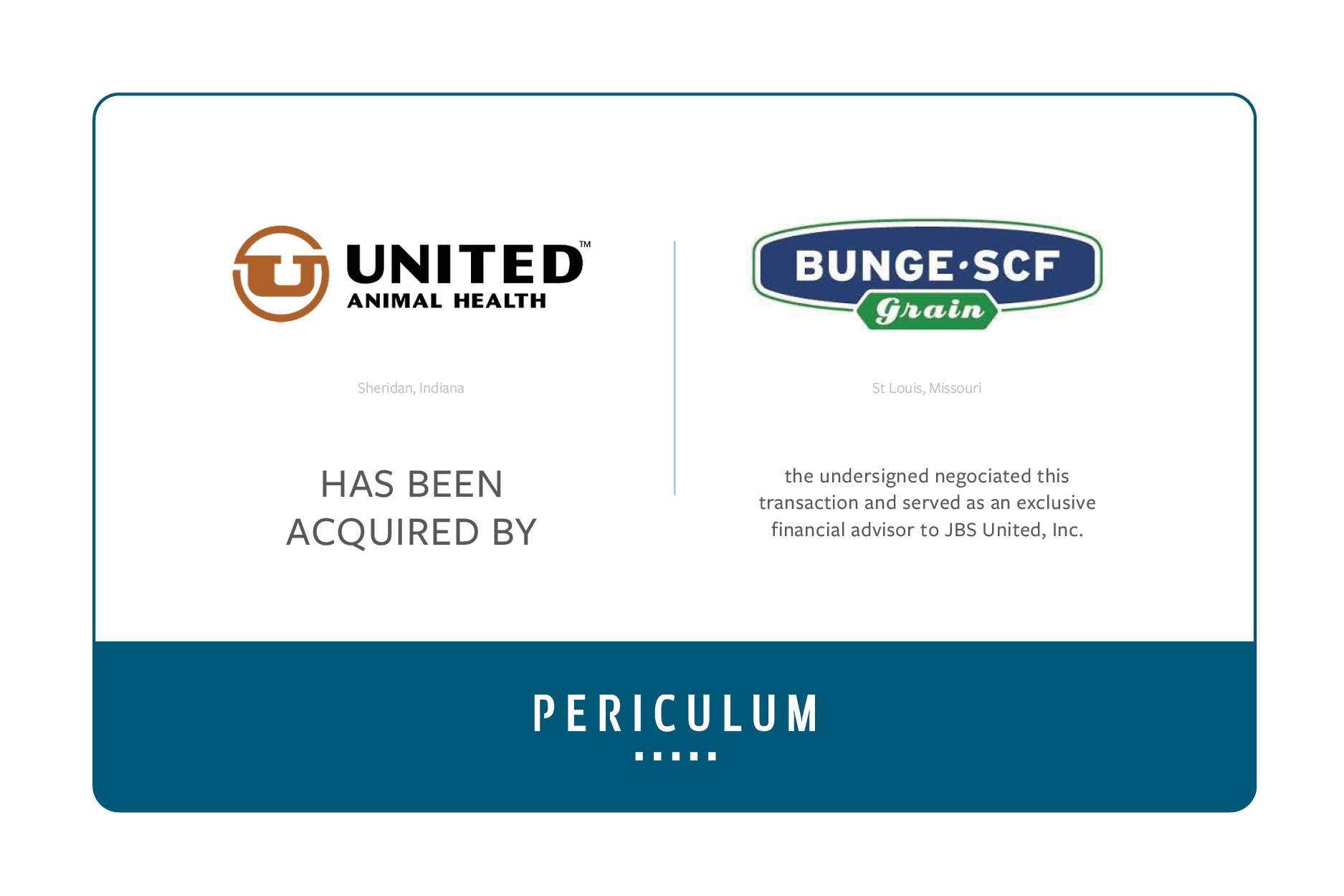 JBS United Grain West is comprised of three grain storage and merchandising facilities located in Griggsville, Pittsfield, and New Canton, Illinois with significant storage capacity and a team of highly experienced grain personnel. The elevators are strategically positioned with access to multiple markets along the Norfolk Southern railroad.
Bunge-SCF Grain LLC, a joint venture between Bunge North America and SCF Agri/Fuels LLC, was created to provide improved infrastructure to serve growing demand for commodities in the U.S. and export markets. The partners include Bunge North America, the North American operating arm of Bunge Limited (NYSE: BG), which buys, sells, stores and transports grains and oilseeds to serve customers worldwide, and SEACOR Holdings Inc.'s subsidiary, SCF Agri/Fuels LLC, which specializes in the purchase, storage, transportation and sale of agricultural and energy commodities.