Periculum Capital Company, LLC ("Periculum") is pleased to announce it has completed the sale of Interactions Incorporated dba Hoosier Refreshment Company ("Hoosier Refreshment" or the "Company"), an Indiana-based beverage distributor, to WP Beverages, LLC, a subsidiary of Wis-Pak, Inc. ("Wis-Pak").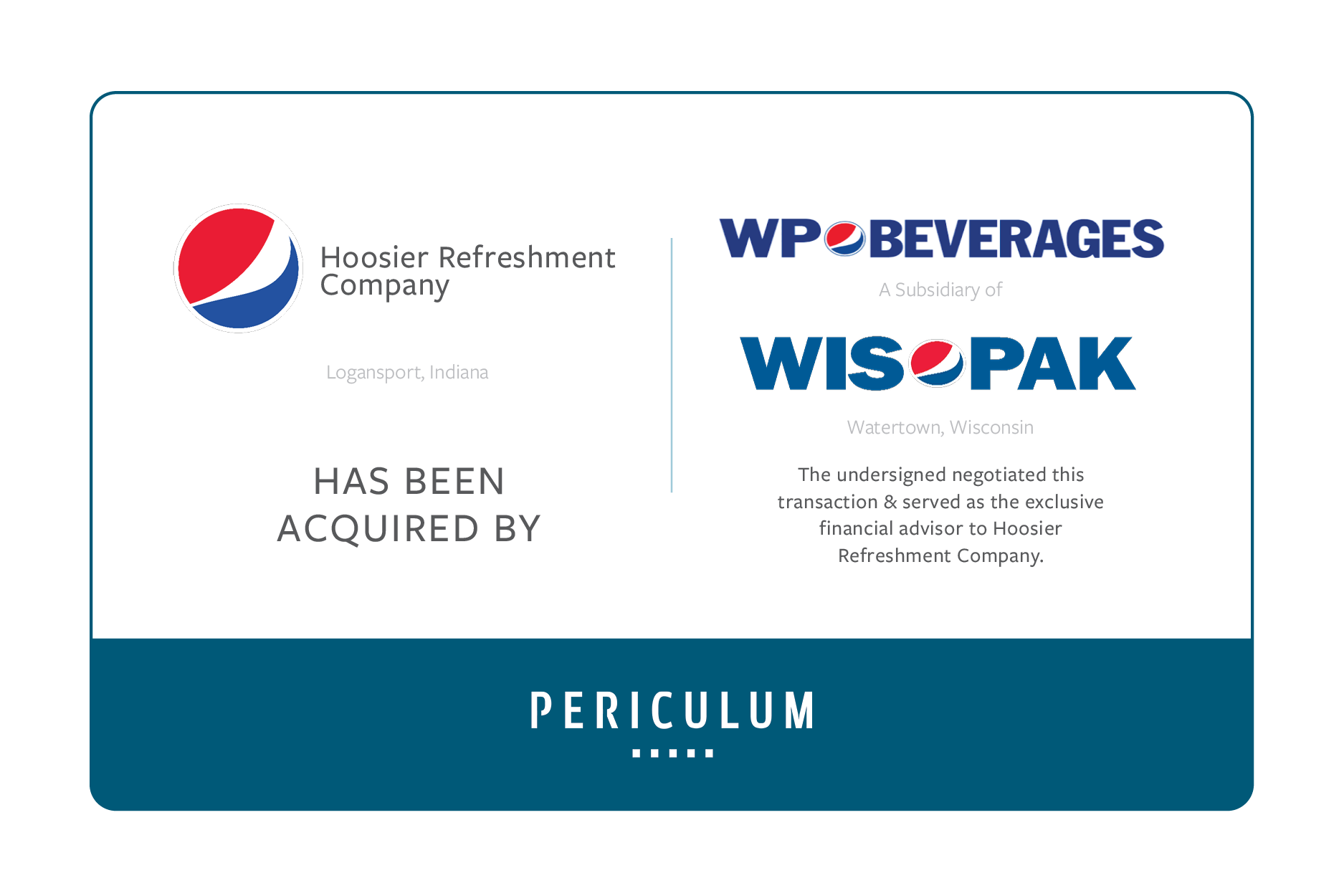 The transaction provides Wis-Pak with distribution rights to key beverage brands including Pepsi, Mountain Dew, and Crush across an exclusive territory spanning 7.5 counties in the northcentral portion of Indiana. Terms of the deal were not disclosed.
Periculum was engaged to manage the sale of the business by the former owner's estate. Periculum's senior leadership advised on each step of a complex sale process that involved satisfying various legal and fiduciary responsibilities while delivering a personal touch to Company management, employees, and the personal representatives of the former owner's estate to drive significant value.
Hoosier Refreshment had experienced steady growth and healthy financial performance supported by its position as an exclusive distributor of PepsiCo beverage products in northcentral Indiana. Periculum was required to manage the transaction under a unique set of variables that included a careful approach to identifying appropriate buyers to maximize transaction value while meeting the needs of numerous stakeholders.
Periculum's dedicated senior leaders that are involved in each step of a transaction— from buyer identification to final negotiations—culminated in the successful execution of the sale.
"The team at Periculum was very gratified to have been chosen by the estate's personal representatives to run this process," said Fritz Schutte. "The complexity of a limited universe of potential buyers and the number of entities involved in final approval authority made achieving the desired outcome more difficult than the typical sell side engagement. The law firm of Ice Miller was indispensable in their role in negotiation of the transaction agreements and handling of the various legal and tax issues revolving around the estate and the transaction including the company's union and pension agreements."
About Periculum Capital Company, LLC
Periculum is a leading investment and merchant banking firm serving the corporate finance needs of middle market companies. The firm was founded in 1998 to provide sophisticated financial advisory and transaction services. Periculum is committed to achieving superior outcomes for its clients by delivering customized investment banking services that maximize value while still meeting clients' individual goals and objectives. The firm's primary services include M&A, capital markets, and restructuring advisory, as well as specialized merchant banking services. www.periculumcapital.com