Periculum Capital Company, LLC ("Periculum") is pleased to announce the sale of Express Funeral Funding, LLC ("EFF" or the "Company") to Messenger LLC ("Messenger"). Periculum acted as the exclusive financial advisor to EFF.
Headquartered in Clarksville, Indiana, Express Funeral Funding is the largest privately-held insurance assignment company in the United States. The Company provides partial- and full- funding of at-need insurance policies for funeral homes and cemeteries across the U.S. EFF has maintained a reputation for outstanding customer service that allows funeral homes to provide families immediate funding of at-need insurance policies. Funeral homes benefit through streamlined claims administration utilizing EFF's intuitive online portal and an improved cash flow cycle. The Company was founded in 2007 by Steve Calloway and Mike Wilson, who were later joined by their sons Aaron Calloway and Michael Wilson, Jr. to take active roles in managing the business.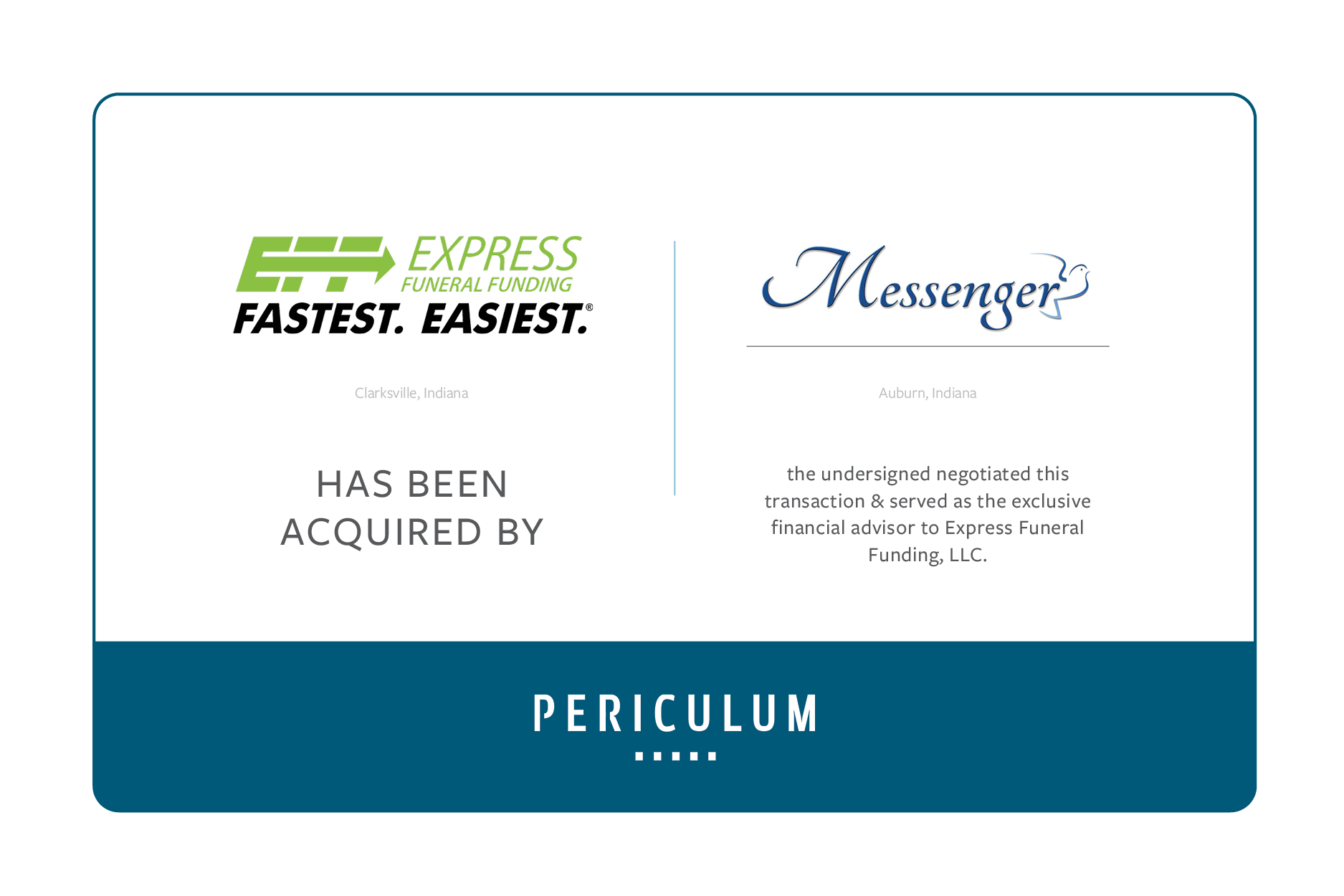 Express Funeral Funding selected Periculum to execute a customized process to identify a partner that would meet the objectives of the Calloway and Wilson families, as well as the existing management team. Their primary objectives included achieving an attractive valuation for the business and identifying a partner that could smoothly transition leadership roles from Steve and Mike to Aaron and Michael, while supporting the Company's significant growth trajectory. Periculum ran a targeted process to both strategic and private equity investors resulting in substantial buyer interest. Messenger, a market-leading provider of stationery products and related services to funeral homes across North America, clearly differentiated themselves throughout the process given their position and reputation in the marketplace and ability to support and accelerate the Company's growth objectives. Both parties are excited about the partnership and its potential for existing account growth while expanding within the funeral industry.
Steve Calloway, President of EFF, reflected on the positive outcome saying, "The Periculum team did an excellent job of identifying potential acquirers and managing the transaction process. This outcome would not have been possible without their experience and expertise."
"We are extremely excited to be working with the Express team to further grow this business," said Kevin Keane, Messenger's President. "This transaction is core to Messenger's strategy of more fully serving the needs of our funeral home customers."
About Express Funeral Funding, LLC
Founded in 2007, Express Funeral funding is the largest privately-held insurance assignment
funding company in the U.S. The Company eliminates the challenges of working with insurance companies by limiting administration, providing immediate payment, and advancing complete policy funds.
www.expressfuneralfunding.com
About Messenger
Messenger LLC, headquartered in Auburn, Indiana, was founded in 1913 by Frank Messenger who started in the religious calendar business and has since become the leading provider of stationery, funeral service items and personalization services. Focused on being a trusted partner to funeral professionals, Messenger delivers time saving solutions to increase customer satisfaction and add value. Messenger provides quality product and technology solutions with quick lead times and exemplary service, an extensive line-up of well-known brands and licensed artists, exclusive partnerships and one of the most experienced and extensive sales teams in the funeral industry.
www.messengerllc.com
About Periculum Capital Company, LLC
Periculum is a leading Midwestern investment and merchant banking firm serving the corporate finance needs of middle market companies. The firm was founded in 1998 to provide sophisticated financial advisory and transaction services. Periculum is committed to achieving superior outcomes for its clients by delivering customized investment banking services that maximize value while still meeting clients' individual goals and objectives. The firm's primary services include M&A, capital markets, and restructuring advisory, as well as specialized merchant banking services.
www.periculumcapital.com