Periculum Capital Company, LLC ("Periculum") is pleased to announce the sale of CGS Services, Inc. ("CGS" or the "Company"), to Advanced Disposal Services, Inc. (NYSE: ADSW). Periculum acted as exclusive financial advisor to CGS in connection with the sale of the Company.

Based in Morristown, Indiana, CGS provides waste collection, recycling, and disposal services throughout eastern and central Indiana. The Company has been in business since 1946 and is known for its quality products and superior levels of service.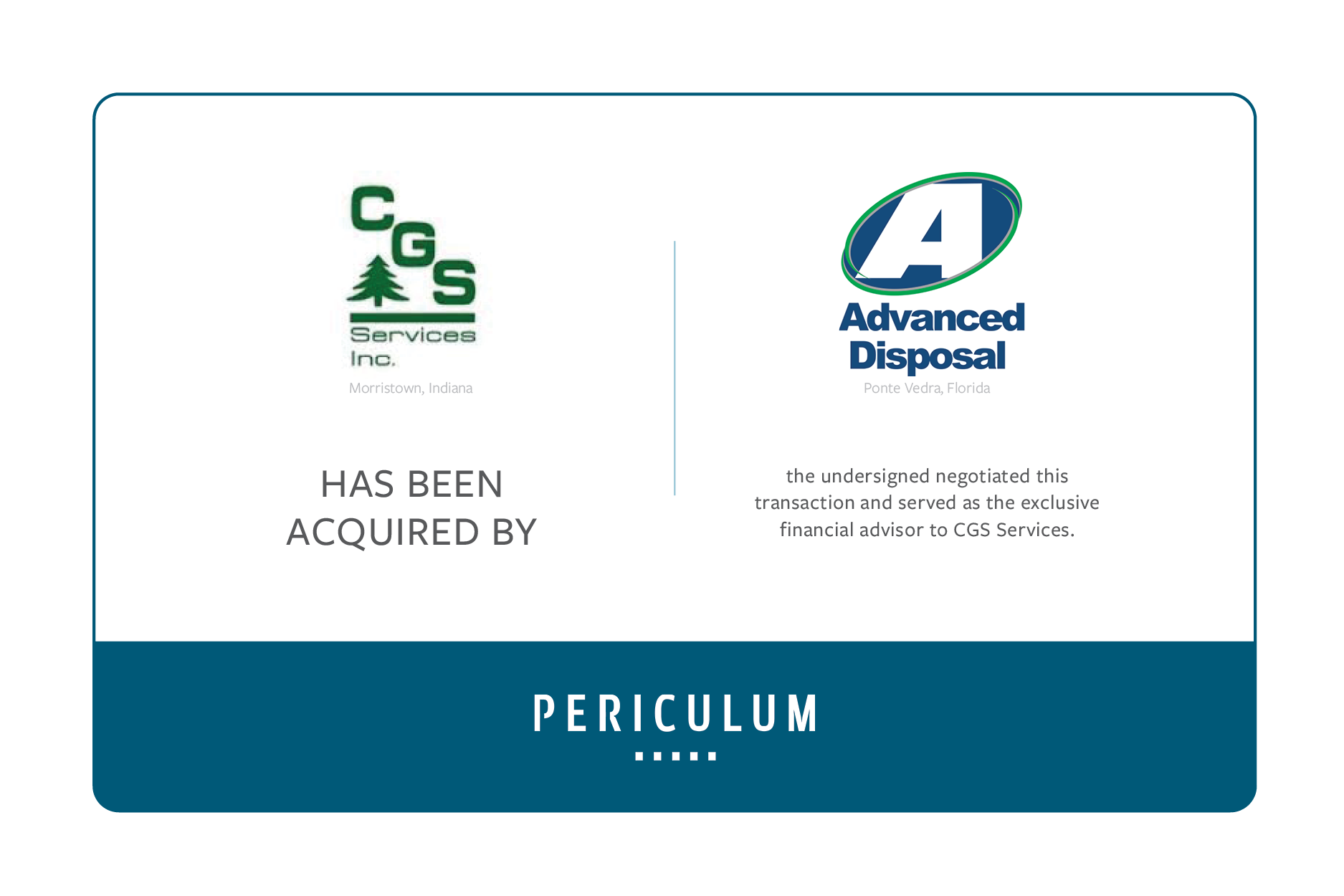 Periculum was engaged to conduct a customized search of potential buyers ranging from large strategic companies in the waste management industry to financial sponsors with industry expertise. CGS was a third-generation family business, making it critical that Periculum find the right partner to continue the Company's legacy. Following management meetings with several potential buyers, the Company's shareholders determined that Advanced Disposal was the right partner. The transaction provided superior value to shareholders while also ensuring that CGS's customers and employees would be taken care of post-sale. "Things went exactly as Periculum described from the very first meeting and we had a very successful outcome," said co-owner Linda Muegge. CGS's other owner, Dana Caldwell, said "Periculum helped drive a deal structure that was not common in our industry, but was important to our family's particular situation."
Advanced Disposal (NYSE: ADSW), based in Ponte Vedra, FL, is the fourth largest non-hazardous solid waste management company in the U.S., as measured by revenue and provides non-hazardous solid waste collection, transfer, recycling, and disposal services for residential, commercial, and industrial customers across the Southeast, Midwest and Eastern regions of the United States, as well as in the Commonwealth of the Bahamas.