Periculum Capital Company, LLC ("Periculum") is pleased to announce it has completed the sale of 21st Amendment, Inc. ("21st Amendment" or "Company"), a long-standing and locally recognized wine and spirit retailer, to US Liquor Group LLC.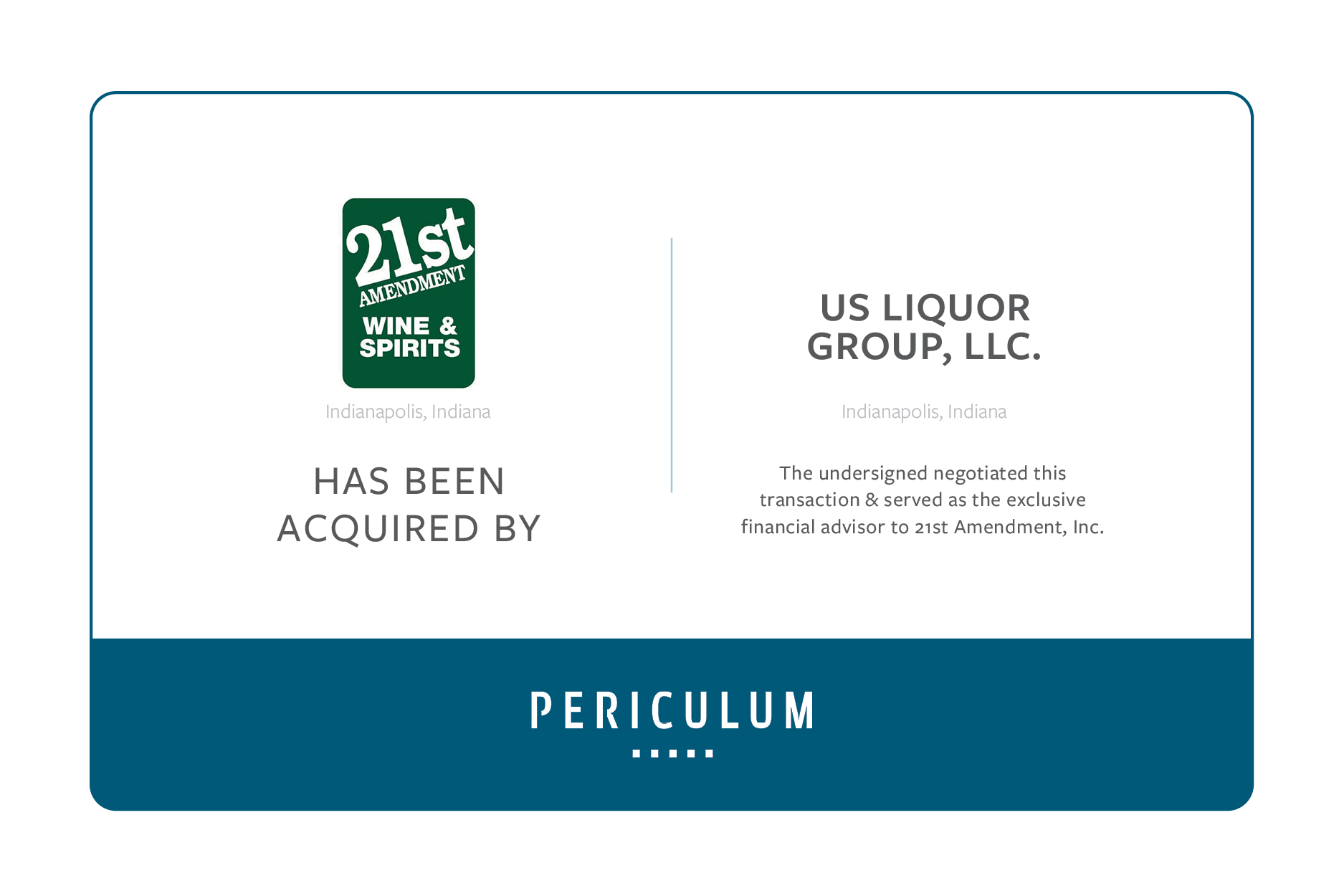 Indianapolis-based US Liquor Group LLC, owned by Bobby Kang, Amarbir Singh Ghoman and Harsharan Singh Ghoman, officially closed its purchase of all 21st Amendment locations in and around Indianapolis, including locations in Carmel, Fishers, Noblesville, and Westfield. All locations will retain the 21st Amendment name.
Since its founding in 1971 by Jim James with a single storefront in Indianapolis, the Company has grown to 19 locations around Central Indiana. The Company gained recognition and continues to be recognized for its commitment to providing quality products and a high level of customer service, particularly as it relates to its wine, spirit, and craft beer product offerings.
Periculum was engaged by the estate of the late Jim James to not only drive the highest valuation for both the operating business and associated real estate in one transaction, but also to preserve the strong 21st Amendment brand and significant community presence developed over the past 50 years with the ownership transition. With a limited universe of potential buyers and the added complexity of multiple ownership interests and regulatory approvals required for the transfer of liquor licenses, Periculum successfully managed a streamlined sell-side process to maximize value while preserving confidentiality in a competitive local market.
Ice Miller LLP served as 21st Amendment's legal advisor.
About Periculum Capital Company, LLC
Periculum is a leading investment and merchant banking firm serving the corporate finance needs of middle market companies. The firm was founded in 1998 to provide sophisticated financial advisory and transaction services. Periculum is committed to achieving superior outcomes for its clients by delivering customized investment banking services that maximize value while still meeting clients' individual goals and objectives. The firm's primary services include M&A, capital markets, and restructuring advisory, as well as specialized merchant banking services.