Periculum Capital Company, LLC ("Periculum") is pleased to announce that its portfolio company, Orbis Education Services, LLC ("Orbis") secured $20.0 Million in Convertible Preferred Membership Units from LLR Partners of Philadelphia, Pennsylvania. The funding will allow Orbis to expand its hybrid online nursing education programs to ten additional partners.
Led by an experienced team of education and healthcare veterans, Orbis works with colleges, universities, and healthcare systems to develop hybrid nursing degree programs, recruit new qualified students, and manage delivery of these programs. Orbis's current partners include Marian University, Sharp Healthcare, St.Vincent Health, Northeastern University, Roseman University, St. Rose Dominican, and Glendale Adventist Medical Center.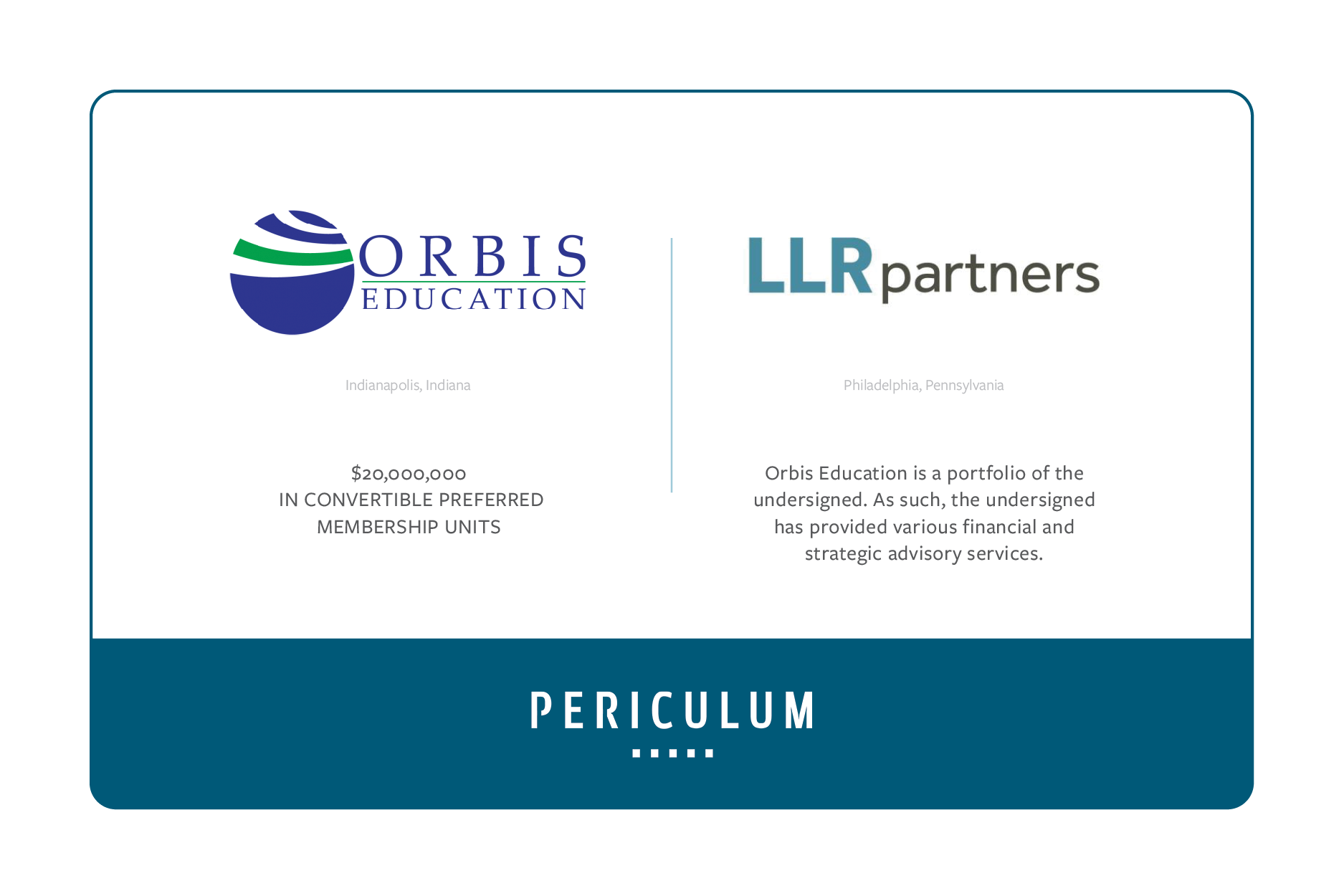 Blending technology and traditional methods, Orbis provides a business solution to enable a hospital to become a virtual extension of a major university. Theory courses are taught by the university partner nursing faculty via interactive online classes that include threaded discussions, real-time webcasts, projects, assignments, and proctored examinations. Students have the flexibility of completing the online courses during day or evening hours and hands-on clinical preparation is taught by appointed university faculty assigned to work directly with students at partner healthcare locations.
Periculum worked directly with Orbis prior to the Company's inception to review and validate the market opportunity, help set business and financing strategy, attract senior management, as well as provide capital. Periculum led two rounds of financing of both debt and equity to facilitate the Company's start-up and initial expansion.
LLR Partners invested $20.0 Million in Convertible Preferred Membership Units. LLR Partners has invested in a number of successful for-profit education companies, and their involvement provides Orbis a value-added investment partner to assist with its growth trajectory. The transaction was structured to convert Orbis Education Services, Inc. from a traditional c-corporation into a Delaware limited liability company. This transaction structure enabled the existing shareholder base to achieve a significant capital gain tax benefit while preserving their economic interests in the Company going forward.