Periculum Capital Company, LLC ("Periculum") is pleased to announce that it acted as the exclusive financial advisor to JBS United, Inc. (the "Company") in the sale of its eastern Illinois grain business ("JBS United Grain East") to Premier Cooperative, Inc. ("Premier").
JBS United's primary focus and core business is the research, development, and production of animal nutrition solutions, which has no direct connection to the grain origination and storage business. Given that, and the Company's desire to significantly grow in the nutrition segment, JBS United decided to divest its grain business to free up management's time and reallocate funds to additional nutrition research and development.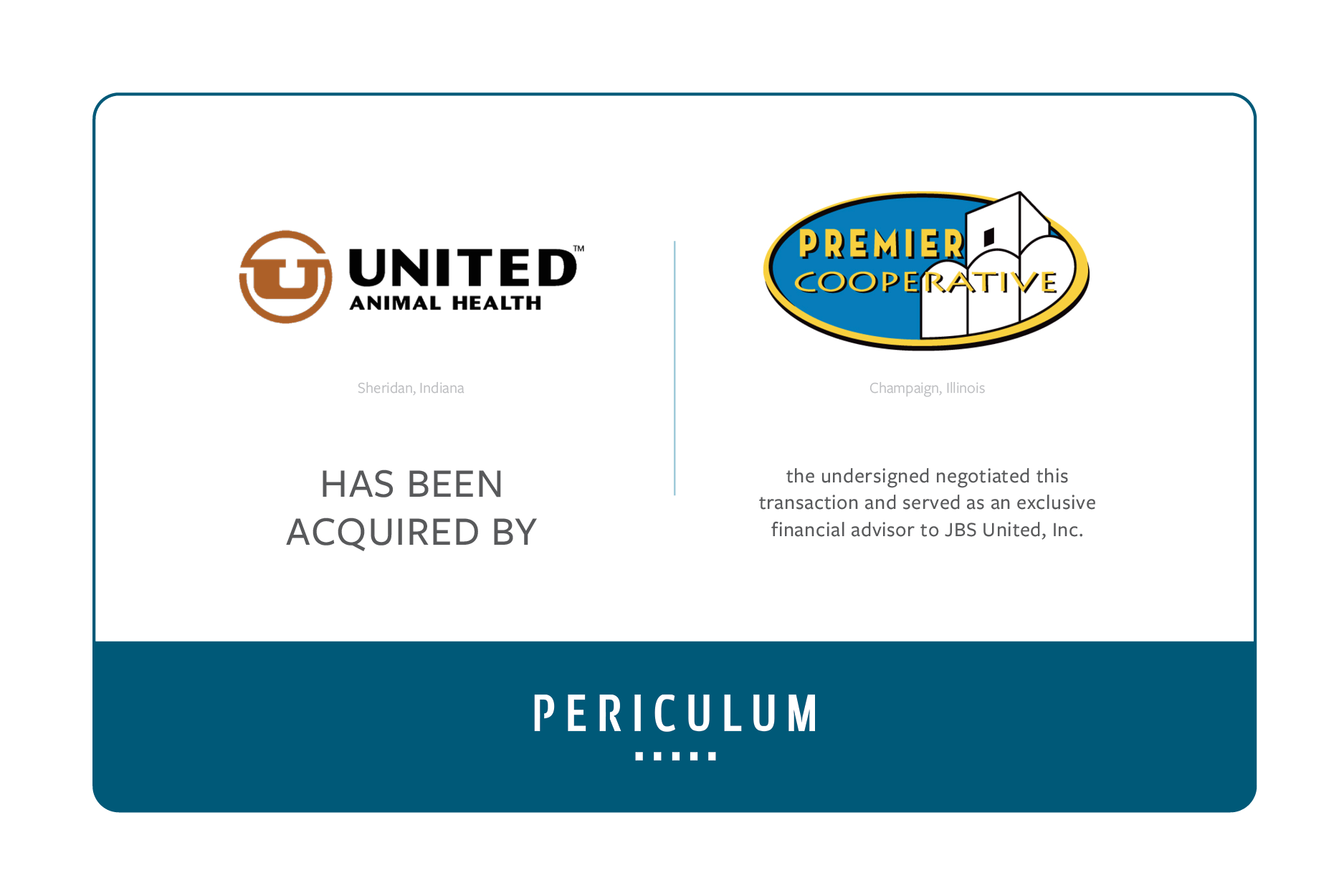 JBS United selected Periculum to lead the sale process because of the firm's extensive experience and contacts in the food and agricultural markets – particularly the grain origination and storage segments. Periculum ran a formal process focused on domestic and international strategic buyers interested in entering or expanding in eastern Illinois. Following an extensive process, JBS United determined the best team to take over its eastern Illinois grain operations was Premier Cooperative. Steve Biddle, Vice President of the Grain Group, echoed this sentiment by saying, "Periculum delivered significant value to us through their experience and well thought out sale process. They identified and targeted strategic buyers that we may not have otherwise been able to attract. With Periculum's leadership we were able to find the right buyer and a good place for our people going with the business."
JBS United Grain East is comprised of three grain storage and merchandising facilities located in Royal, Rossville, and Collison, Illinois with significant storage capacity and a team of highly experienced grain personnel. The elevators are strategically positioned with access to multiple markets along the CSX and Union Pacific railroads, complementing Premier's existing grain origination footprint and culture.